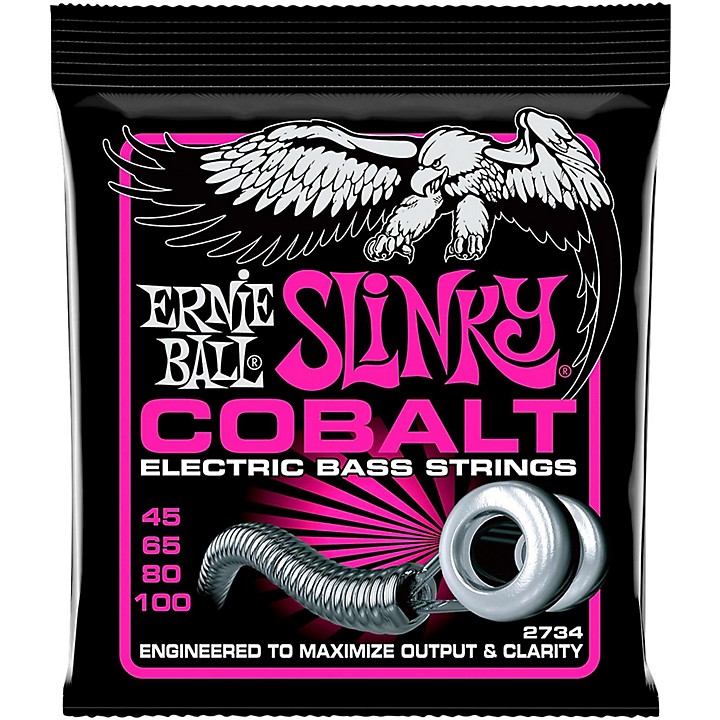 Try the new and improved super slinky feel and fat tone.
Ernie Ball 2734 Cobalt Super Slinky Electric Bass Strings are round-wound for maximum clarity and serious punch. The Cobalt Series is clearly an improvement on its classic nickel-wound counterpart giving the player increased sustain, clarity and output. In addition, they resist sweat and moisture better and have unmatched flexibility when compared to other nickel wound strings. Cobalt is the most magnetically active string alloy on the planet and attracts the magnets in your pickups more than any other string.

"Ernie Ball Cobalt Bass Strings are the new standard! Bigger, better tone, sustain and volume. Finally a real innovation with strings." - Randy Jackson
"I can't believe how much low end I get out of Ernie Ball Cobalt Bass Strings. Also, the high end is super crisp, seemingly with more definition. Unbelievable." - Dave Larue

All Ernie Ball strings are precision manufactured to the highest standards and the most exacting specs to assure consistency, optimum performance and long life. Made in the USA.

Gauges 45-65-80-100.