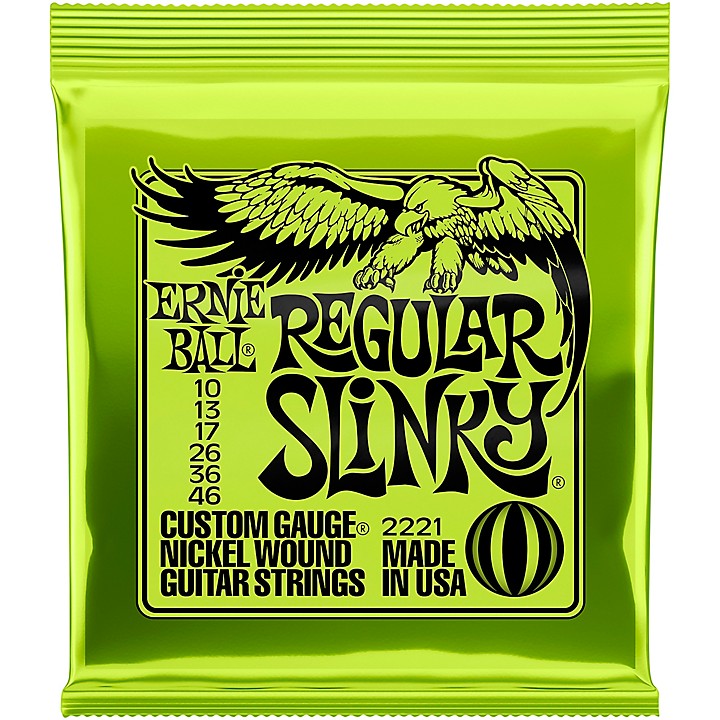 The most popular Ernie Ball Slinky strings helped build the foundation for modern guitar playing.
Music & Arts is proud to offer the Ernie Ball Regular Slinky Nickel Wound electric guitar strings. These premium nickel-wound strings are engineered to produce a balanced, crisp tone that works for a variety of musical styles. The Regular Slinky gauge, with a medium bottom end and top end, provides flexibility and comfort for lead and rhythm playing. The nickel-plated steel wrap wire is precision-wound onto a steel hex core for maximum durability and sustain.
Versatile Tone for Any Genre
The Ernie Ball Regular Slinky strings' balanced gauge and bright, clear tone suits rock, blues, jazz, country and metal. The nickel plating delivers a rich, warm midrange, while the steel core and wrap provide tight, punchy lows and silky, articulated highs. Combined, these elements create a versatile tone that cuts through a mix with clarity and authority. Guitarists who play a range of musical styles will appreciate the tonal flexibility of these premium strings.
Maximum Durability and Longevity
Ernie Ball Regular Slinky strings are built to last, thanks to the highest-quality materials and precision manufacturing. The steel hex core is extremely resistant to stretching and warping, providing a stable base for the nickel-plated steel wrap wire. This nickel plating prevents corrosion and rust, allowing the strings to retain clarity and tone over long playing sessions. Overall, guitarists can expect a long playing life and minimal tuning issues from these durable, well-made strings.
Comfortable Feel and Playability
With a medium gauge range of .010 to .046, Ernie Ball Regular Slinky strings have a comfortable playing feel for most guitarists. The balanced tension makes bending, sliding and fretting chords smooth and easy. Whether you prefer lighter or heavier strings, the Regular Slinky set is a versatile middle ground that provides ideal playability and tone for a range of playing techniques and preferences.
Features
Nickel-plated steel strings
Gauge: .010 .013 .017 .026 .036 .046
Tapered design for maximum vibration
Made in the USA
Environmentally friendly packaging
Sealed airtight to preserve freshness
Balanced tension for great tone
Corrosion resistant
Flexible and long lasting
Compatible with most standard electric guitars
WARNING: Cancer and Reproductive Harm www.P65Warnings.ca.gov.