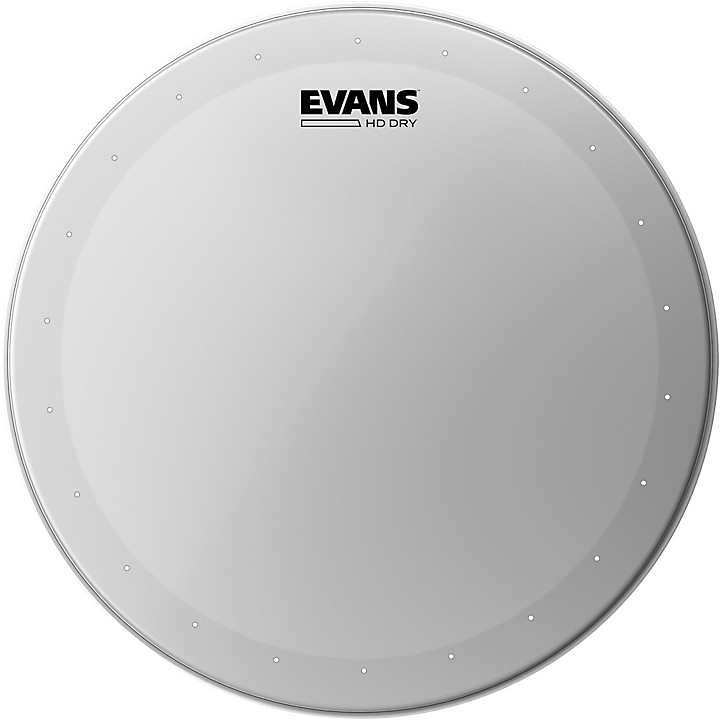 The 14" Evans Genera HD Dry coated snare drumhead is engineered for the needs of live and studio drummers seeking an aggressive sound with balanced response. Featuring two plies of film—a 5mil outer ply and a 7.5mil inner ply—the HD Dry produces a distinctive rimshot and full tone. Small, precision-drilled vent holes around the edge eliminate excess overtones and rein in sustain for a tight, focused sound. A 2mil overtone control ring below the playing surface, muting overtones for a clean, studio-ready tone that still cuts through on stage. Evans' Level 360 collar allows even seating and a wide tuning range. Proudly made in the USA, the Genera HD Dry delivers power and control for peak performance.


Vented for Controlled Sustain
The HD Dry is equipped with a series of small vent holes drilled around its edge. These vents allow air to escape, reducing excess resonance and tightening the overall sound. The result is a snare head with a quick decay and limited sustain, ideal for drummers who prefer power and control over ring. Tuned higher, the HD Dry produces a sharp, staccato crack; tuned lower, it yields a full-bodied thump with minimal wash. The vents make this single-ply snare batter a versatile choice for live drummers and studio engineers alike.


Two-Ply Construction Provides Aggressive Rimshots
Comprising two plies of film, the HD Dry delivers an assertive rimshot with enhanced durability. The 7.5mil inner ply adds thickness for a fat rimshot sound and resilience against breakage. The 5mil outer ply is thinner, allowing the snare wires to cut through for crisp articulation. Together, the dual plies generate an aggressive, well-rounded rimshot that speaks with authority. For drummers who lay into their rimshots, the HD Dry is an ideal snare batter head that can take the repeated impacts in stride.


Overtone Control Ring Tames Excess Ring
Below the playing surface, a 2mil overtone control ring helps reign in the HD Dry's sustain and resonance. The ring 'floats' with the head, muting overtones and limiting ring to produce a focused tone with a tight decay. Without the ring, the HD Dry would produce an unruly amount of ring due its single-ply construction and venting. With the ring, drummers get all the power and cut of a single-ply snare batter with none of the excess ring—the best of both worlds for live and studio applications.


Level 360 Technology Provides Wide Tuning Range
Evans' Level 360 collar surrounds the edge of the HD Dry, allowing even seating on the drum shell for quick, accurate tuning and a wide tonal range. The snare wires make full contact with the underside of the head, enabling maximum articulation and snare response. From high-pitched and sensitive to low and fat, the Level 360 collar gives drummers more tuning options to explore with the HD Dry snare batter head.


Features
Finish: Coated
Attack: Very Defined
Tone: Medium Warm
Sustain: Very Focused
Feel: Moderate
Durability: High