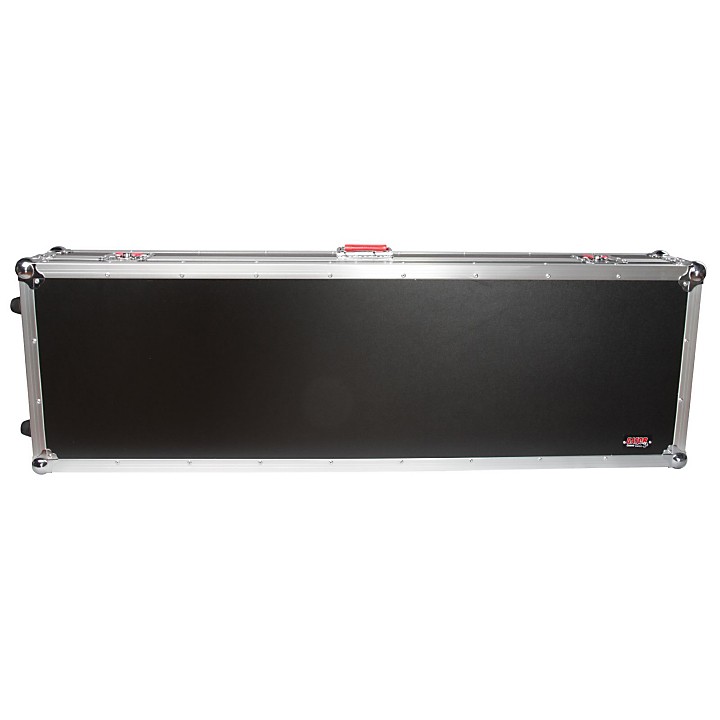 Heavy-duty ATA wood flight case for most 88-note keyboards.
Gator Cases G-TOUR 88V2 case for 88-note keyboards is made of heavy-duty plywood construction with a PVC exterior and a unique wedge and block design for interior customizing as well as EVA Dur interior protection, adjustable foam padsin the lid, and reinforced stackable ball corners to protect your keyboard during transportation.Speaking of transportation, when you're on the go, the recessed wheels and spring-loaded rubber-gripped handles make it easier to get from gig A to gig B. The G-TOUR 88V2 also features heavy-duty commercial-grade plated hardware and a tongue & groove extrusion aluminum valance.
Specifications
Interior Dimensions (LxWxH): 59" x 19" x 6.63"
Exterior Dimensions (LxWxH): 65.94" x 22.05" x 10.04"
Weight: 59.94"
Features
Heavy-duty plywood construction with PVC exterior
Tongue & groove extrusion aluminum valance
Unique wedge and block design for interior customizing
EVA Dur interior protection
Reinforced stackable ball corners
Adjustable foam pads in lid
Recessed wheels and spring-loaded rubber-gripped handles
Heavy-duty commercial-grade plated hardware
3 spring-loaded handles