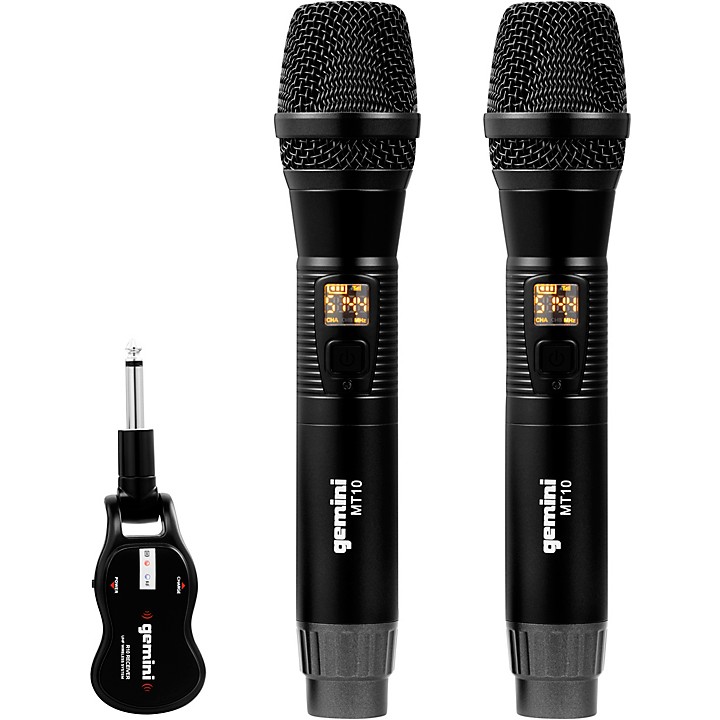 Wireless microphone system with dual mics.
The Gemini GMU-M200 is a UHF wireless system with two dynamic handheld microphones and a wireless receiver. This expandable Plug & Play system will meet all your wireless needs with USB rechargeable batteries and long-distance wireless connection, just plug in and power on, and you're ready to rock.

Gemini's GMU wireless system is perfect for many applications, including but not limited to: karaoke, busking, weddings, conferences, streaming and podcasting. Both the MT10 microphones and R10 receiver include rechargeable lithium batteries. Conveniently charge via USB with included cable. Batteries provide hours of use on a single charge. The GMU wireless system can support six pairs of devices working without interference as well as ability to transmit one signal to several receivers at the same time.
Features
Two cardioid pattern dynamic wireless microphones
UHF high-band single-channel receiver with multi selectable frequencies
Ultrafast microcomputer controlled PLL oscillation circuit
Advance Compression Circuit rejects unwanted noise
Hassle-free Automatic Transmitter setup via SET button
Two handheld microphone transmitters with full range up and down volume control and LED screen (displays channel number or frequency and battery power)
Receiver with 1/4" jack, connect to amplifier, pedal, mixer etc.
Charge receiver and microphones via USB port