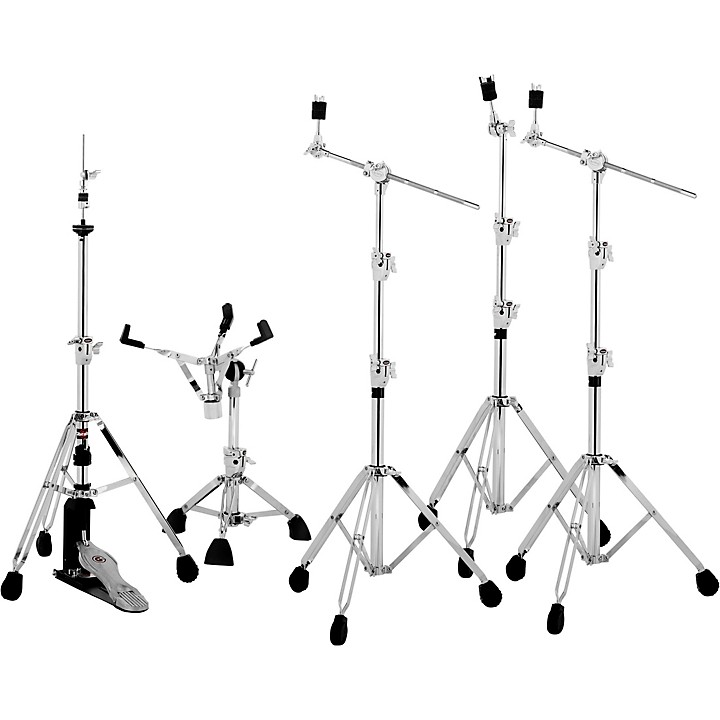 Professional features in a heavy duty hardware pack.
This five-piece heavy-duty hardware pack features double braced stands for maximum stability. It has everything the touring drummer needs, including a hi-hat stand, snare stand, and three cymbal stands with gearless tilters for 360 ft. angle adjustment, all with professional grade features. · Heavy weight double-braced tripod design with hinged height adjustment. Professional features and extremely durable ·
Specifications
9300 snare stand:

Weight: 10.1 lbs.

1" upper tube 1-1/4" base tube

Maximum basket height 28.5"

Minimum basket height 18"

Toothless Tilter:
Weight: 12.3 lbs.
1/2" boom arm, length 18"
3/4" upper tube
1" middle tube
1-1/4" base tube
Maximum cymbal seat height 88"
Features
9300 snare stand:
The 9300 Series Snare Stands are the only stands designed with double pedal set-ups in mind. The offset basket allows optimal snare positioning while remaining balanced.
The knurled snare basket knob can be easily reversed, allowing the basket to be in a more closed position for holding smaller drums.
The snare drum angle adjustment can be firmly locked with the large reset handle and double locked with TechLock.
The basket can easily be removed from the tilter, enabling quick snare changes.
9700 straight/boom cymbal stands:

Stands feature memory locks on the tube joints and the tripod leg assembly, plastic tube insulators, toothless tilters with TechLock, large reset handles and cymbal seat adjustment.

The Techlock secondary drum key locking system is a design inspired by working drum techs. The feature, incorporated at all critical adjustment points on DW 9000 hardware, is a safe-guard against slippage due to vibration during transport or play.

Plastic tube insulators inside the heavy gauge tubing are a necessity in recording situations to avoid rattling when drum mics are placed close to cymbal stands.

Hinged memory locks are included at tube joints, cymbal arms and tripod leg assemblies to guarantee 100% repeatable, precise height settings every time.
Cymbal Seat Adjustment:

The patented Cymbal Seat Adjustment can be raised or lowered to quickly adjust cymbal movement as needed. It can then be locked in place to assure desired spacing. (U.S. Patent No. 4889028)

Toothless Tilter:
The Toothless Tilter with TechLock allows for infinite adjustment and secure positioning.