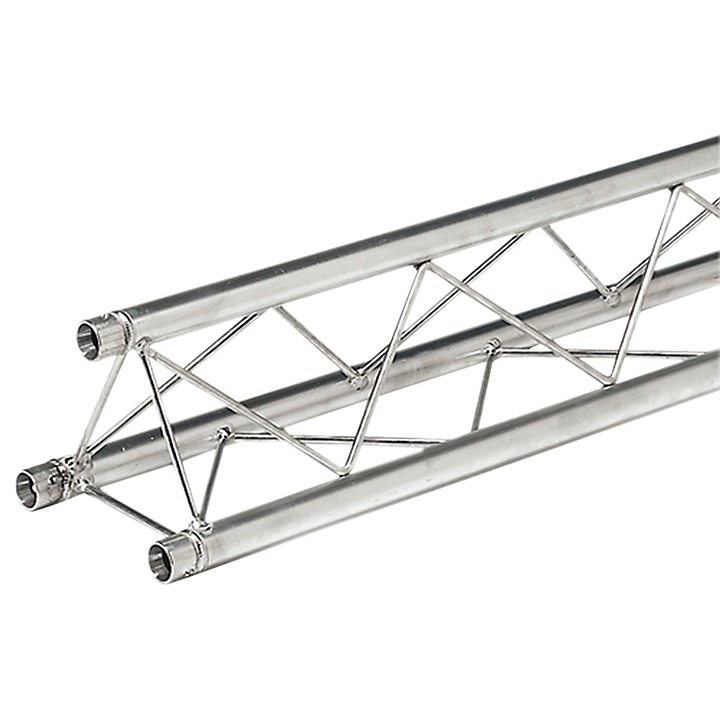 Truss segment for multiple applications.
Global Truss specializes in high-quality aluminum and steel general-purpose lighting and stage trussing designed for live stages, theaters, nightclubs, church installations mobile applications. Built to exacting specifications, Global Truss products can be counted on for safety, beauty and function. They are lightweight, easy to set up, and affordable. This is the TR96105, a 2.5 meter length of mini triangular truss that easily connects with bases, corner junctions and other segments of mini triangular truss.

Global Truss offers a large variety of truss products: Square Truss, Triangular Truss, I-Beam Truss, Clamps, Box Truss, Circular Truss, Trade Show Booths, Exhibit Displays, Trussing Systems, Truss Kits, Aluminum Truss, Aluminum Truss Systems, Truss Totems, Retail Displays, Crank Stands, Junction Blocks, Aluminum, Furniture, Tables, Chairs, Truss Corners, Light Stands, Lighting Stands, Sleeve Blocks, Winches and Crank-up Stands.

Global Truss products bear the certification mark from TV, a third-party certification body and a Nationally Recognized Testing Laboratory.

Specifications
Equipped with connecting hardware
Width: 8-5/8 in.
Outer diameter: 1-1/3 in. (35 mm)
DIagonal bracing: 1/3 in. (8.3 mm)
Wall thickness: 0.04 in. (1 mm)
Weight: 15 lb.
Features
Strong
Safe
Reliable
Attractive
Lightweight
Affordable