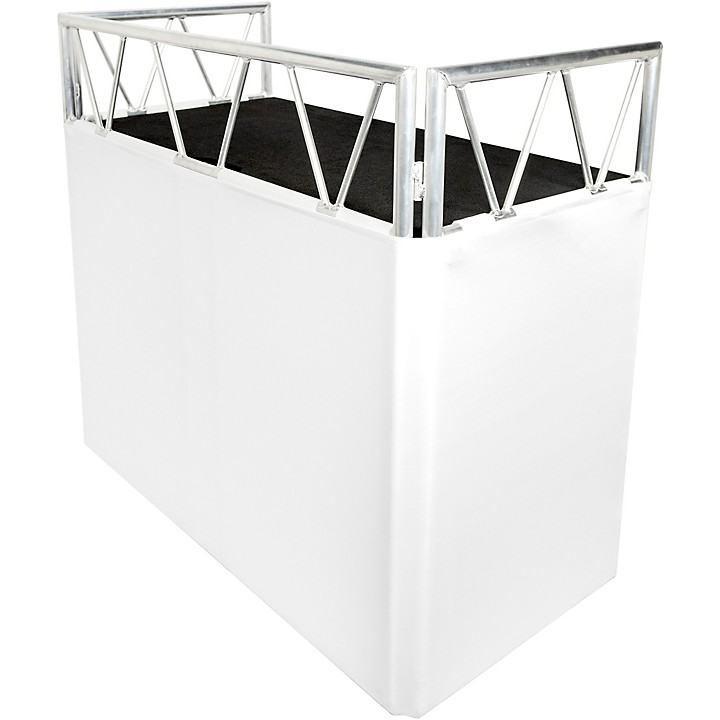 Lightweight, portable DJ booth for small venues.
The Headliner Indio DJ Booth was designed with mobile DJs and small venues in mind. This highly portable, 38 lb. booth sets up in just a few minutes, making it an ideal solution for use at weddings, mobile events, bars, restaurants and other small venues. Made from sturdy 1.3" aluminum tubes, the Indio DJ Booth is compatible with standard 35mm Jr-clamps, enabling users to hang lights or other fixtures in and around the booth. The carpeted countertop sits at 35 5/8" from the ground and fits a number of DJ configurations including large controllers like the Pioneer XDJ-XZ, a pair of media players with a club mixer or even turntables in battle position. A white wrap-around scrim is also included, keeping cables neatly hidden for a clean and professional look.
Specifications
Counter top height: 35.625" height
Counter top dimensions; 47" x 23.75"
Overall Dimensions: 50.5" W x 25.375" D x 46.125" H
Weight: 38 lb.
Features
Portable DJ booth made from aluminum truss
1.3" (35mm) outer tube diameter
Fits a variety of DJ setups including large controllers such as XDJ-XZ, CDJ's with a club mixer, or turntables in battle position
Ideal for use at weddings, mobile events, bars and restaurant, or any small venue without a permanent DJ booth
Quick and easy setup in under 5 minutes
Compatible with standard 1.3" (35mm) Jr-clamps
Includes wrap-around white scrim
Carpeted plywood counter top