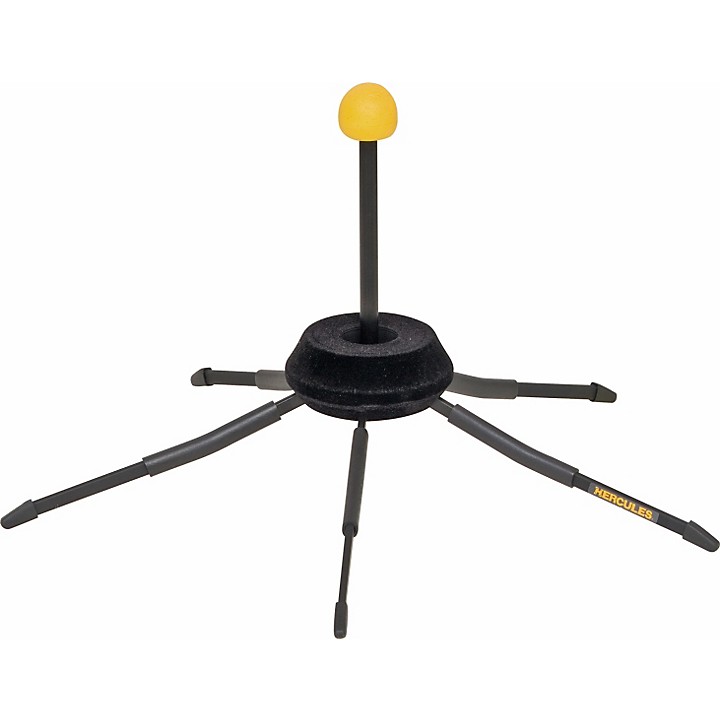 Compact design, portable in bell.
The DS410B TravLite In-Bell Trumpet Stand offers musicians a solution for safely storing and displaying their instrument on the go. This innovative stand features a velvet-padded, 5-leg base that provides stability for your trumpet while protecting its finish. Despite its sturdy build, the DS410B folds up compactly to just 7" in length, allowing you to store it right inside your trumpet's bell when packed in its case.


Velvet Padding Protects Your Trumpet's Finish
The velvet material that cushions the DS410B's base helps prevent scratches and scuffs to your trumpet's lacquer or silver plating. The velvet creates friction to keep your trumpet securely in place during storage or display, without causing damage. This built-in protection offers peace of mind that your prized instrument will remain unharmed.


5-Leg Design Creates a Sturdy Platform
The DS410B owes its stability to a 5-leg design that provides a wide, balanced base. The legs fold out to form a secure platform for holding your trumpet, then collapse again for compact storage. This innovative mechanism allows the stand to remain lightweight and portable while still giving your trumpet a stable place to rest. You can trust that your trumpet will remain upright and supported.


Compact and Convenient for Travel
Despite its secure and protective design, the DS410B folds up small enough to fit inside your trumpet case. At just 7" long when collapsed, this stand won't take up much space in your luggage or gear bag. Its compact size and foldable build make the DS410B an ideal accessory for gigging musicians and students on the go. You'll always have a safe spot to store your trumpet, no matter where your music takes you.

Order the DS410B TravLite In-Bell Trumpet Stand today.
Specifications
Weight: 0.7 lbs (0.3kg)
Base Radius: 6.7" (170mm)
Folded Size: 7" L x 2.7" W (180mm L x 70mm W)