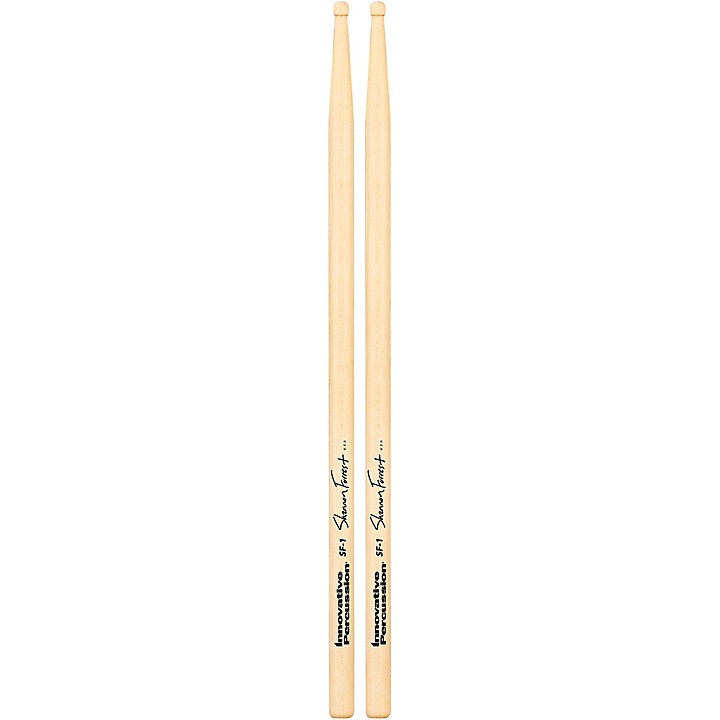 A signature pair of white hickory sticks built for Toto drummer Shannon Forrest
Innovative Percussion developed the Shannon Forrest SF-1 signature drum stick to match the go-to session drummer's exciting mix of finesse and power. A recipient of multiple Drummer of the Year awards from the Academy of Country Music, Forrest has also taken the drummer's chair for legendary band Toto since 2015. Innovative Percussion needed to design a signature stick that could work in any genre, while also standing up to his demanding schedule. That's how the SF-1 was born.

These white hickory sticks feature an 8A diameter for a perfect combination of precision and durability. The SF-1 has a quick taper which allows the stick to have a heavier feel while still allowing the player to have complete control over a smaller stick. The thicker base also allows the stick to have greater durability to handle the beatings a world tour can dish out. Tipped with a wooden barrel bead, the SF-1 provides a very bright, articulate sound to help create great touch across the drums.
Features
Pair of signature drum sticks designed for Toto drummer Shannon Forrest
Made from white hickory with a 16.125" length and 8A-style .565" diameter
Quick taper allows for a heavier feel while keeping a lighter, more sensitive touch
Short barrel tip made from wood