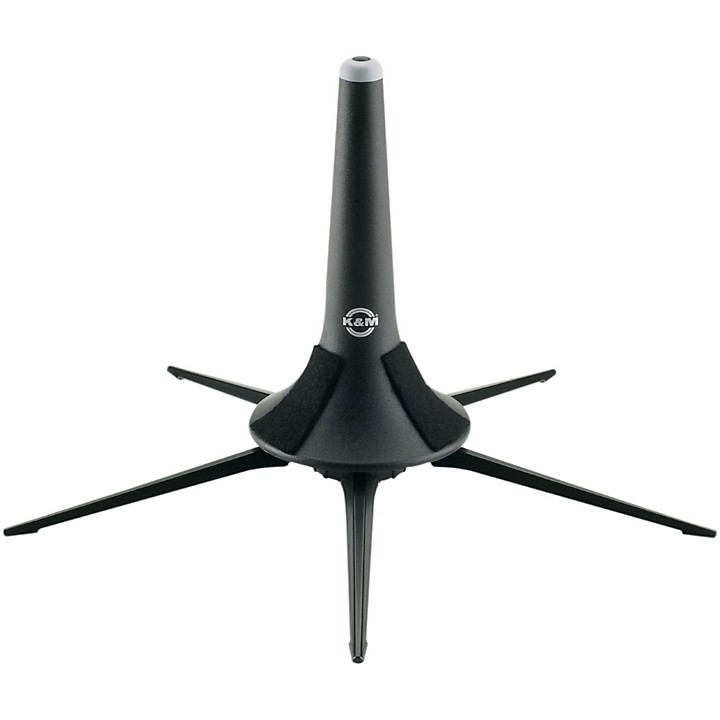 A safe space for your trumpet when you're not playing.
The K&M 15213 5-leg in-bell trumpet stand provides maximum stability combined with convenient transportation. This German-made stand features a detachable metal leg base which screws into the instrument peg so that the entire stand can be stored in the bell of the trumpet for easy transport. Featuring a black plastic peg covered with felt pads, this stand is lightweight while offering protection for the finish of your instrument.
Specifications
Height: 8.07"
Instrument Support: Peg with felt pads
Leg Construction: Screw-attachable leg base
Materials: Plastic peg, zinc die-cast legs
Special Features: Detachable metal leg base screws into peg for storage so entire unit can be kept inside the instrument bell; Rubber-covered peg top
Color: Black/Grey
Weight: 0.71 lb.
Features
Made in Germany
Precision quality design and construction following international ISO 9001 quality management certified practices
Eco-friendly manufacturing following strict international ISO 14001 and European Union EMAS certified standards
5-year product warranty
10-year parts warranty (parts warehoused in K&M's U.S.A. facility)