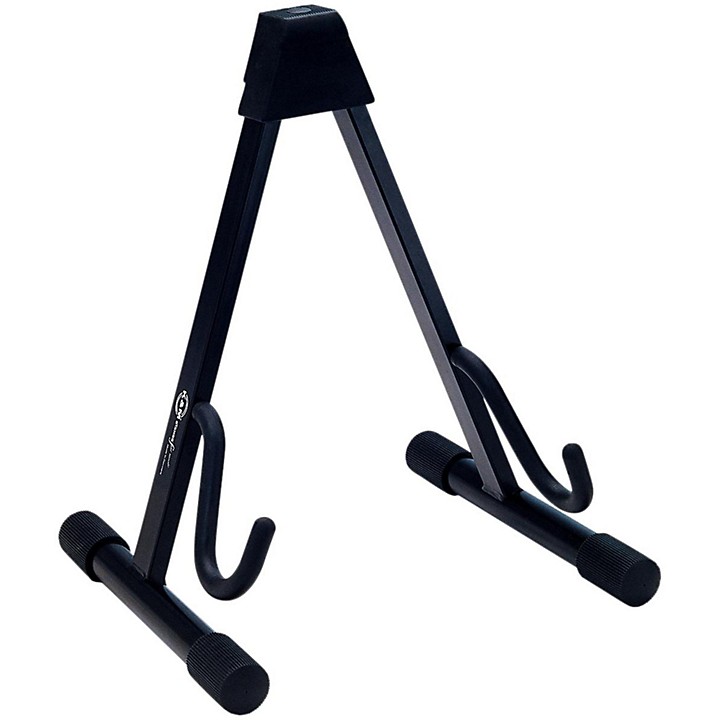 Easy to carry, easy to use and easy on your guitar.
For any guitarist it is very important to have your electric guitar held securely and prevented from damage. K&M (K¶nig and Meyer) feels the same way. This German engineered and manufactured electric guitar stand has a feature that makes it superior to other guitar stands.

The rubbery feeling non-mar thick coating that is on the Swiss steel frame of this stand is bonded to the metal. It is not a simple piece of rubber hose that can tear and fall or rot off. The parts of the stand that would touch the guitar are covered completely in this highly protective durable material.The Swiss steel frame is electrostatic powder coated for a beautiful appearance and maximum durability.

The side legs are 11-1/8" long and have rubberized feet on each end. The angles are all specially engineered to help prevent tipping of your instrument. Even when on a busy stage. The legs of the stand are adjustable to 3 positions (5-¾ wide, 8-5/8 wide and 11-1/16 wide to accommodate guitar size. The locking adjustment is by a button on the back.

The stand folds to a small size making it easy to transport. Weight 4.1 pounds. As with all K&M products this product is manufactured in Germany from high grade materials, has a five year warranty and is manufactured according to strict environmental protection standards (ISO 14001).