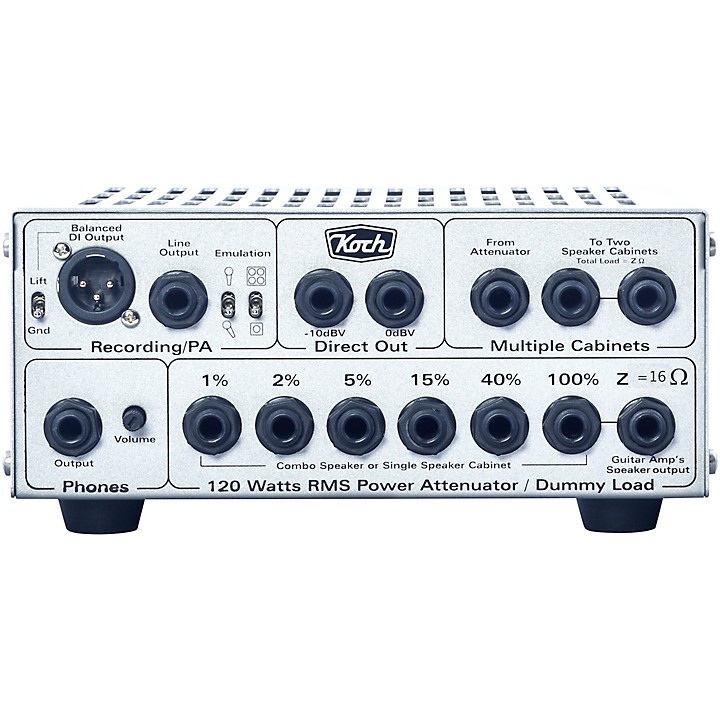 This Swiss Army knife is a must-have for live and studio guitar rigs.
The Koch Loadbox II power attenuator, DI and speaker simulator is an innovative multi-tool, which should be found in every serious guitar player's kit. The Loadbox offers solutions for many situations — from live gigs, to rehearsals, to home and studio recording. Koch understands that quality, tone and clarity are very important to guitar players. Therefore they designed the Loadbox II with extra heavy-duty components, stainless-steel housing and a host of features.

As a straight output power attenuator, the Loadbox can handle a continuous 120 Watts at any of 7 output levels with unparalleled clarity, and without loss of tone. The user also has the choice of various outputs to channel the attenuated signal such as: single or multiple cabinets (depending on impedance), padded or non-padded direct outputs, a transformer balanced XLR DI output and line output for PA/Recording.

The DI and line outputs both share voicing switches for microphone placement and cabinet style, allowing the user to use the Loadbox as a speaker simulator in any situation from studio recording to live performances. The Loadbox can also be used as a straight transformer balanced DI box with speaker simulator, or to convert almost any amp into a headphone amp for rehearsing and practicing.
Specifications
Power handling: 120W
7 volume output levels
DI box
Speaker emulation
Stainless steel housing