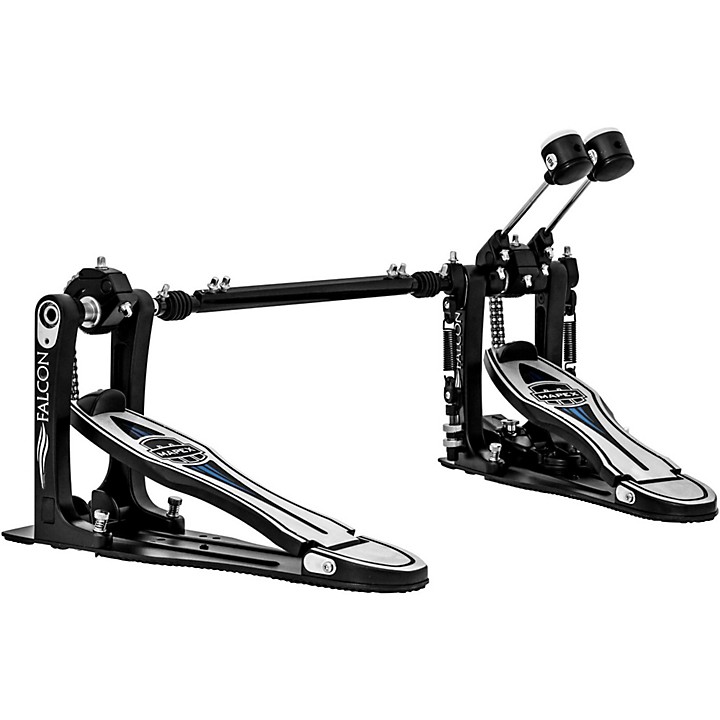 The Falcon Series is all about simplicity of adjustment and position.
Falcon is a complete line of pro-level hardware from Mapex with the features and conveniences needed by pros in the studio, on tour, or in the woodshed. The Falcon design was influenced and road tested by a team of artists who want an incredibly smooth feel and simple adjustability. The settings are dialed-in at the factory, so it feels good right out of the bag with only minor adjustments needed to fit individual tastes. That means more time playing and less time adjusting.

The Falcon Double Bass Drum Pedal is designed to give drummers optimal adjustment and designed to be the smoothest-playing pedals ever made. Falcon accessories also offers a direct drive for fluid, fast and responsive performance. Double-pedal users can experiment with the drives to find the right left foot vs right foot balance of feel and speed.

This pedal features a self-adjusting hoop clamp that reduces stress on hoops that, compounded with a reduced-size base plate, stabilizes the pedal. Additionally, the pedal offers independent control of beater positions at rest and the length of the row.
Features
Self-adjusting hoop clamp
Footboard height adjustment
Reduced baseplate size
Beater angle adjustment