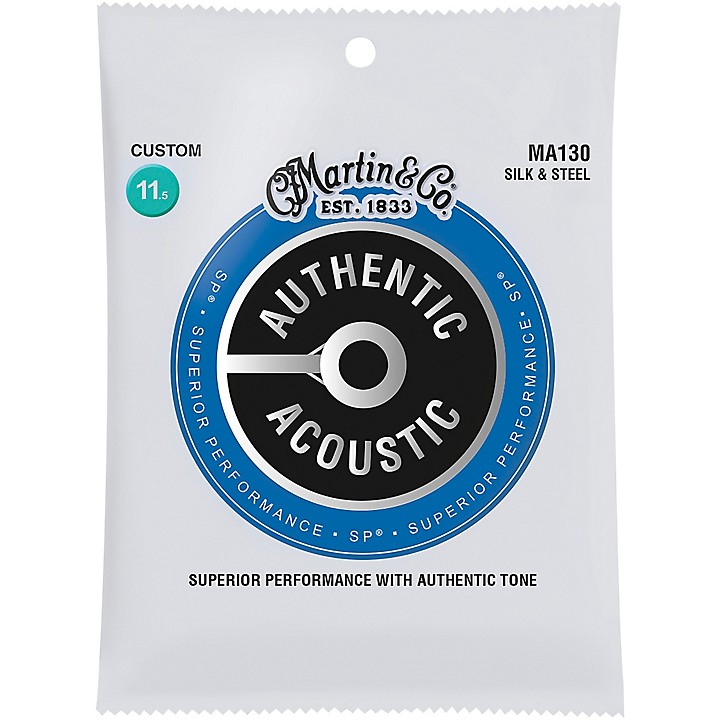 Silk and steel for excellent longevity and feel.
The MA130 Authentic Acoustic Guitar Strings from Martin & Co. are designed to achieve superior tone and playability. Constructed from the highest quality materials and subjected to rigorous testing, these acoustic strings provide outstanding tone, clarity, response, and longevity. The tin-plated steel core wire delivers enhanced corrosion resistance and tuning stability, allowing musicians to perform confidently on stage or in the studio.

C. F. Martin & Co. is renowned for crafting premium acoustic guitars. They designed the MA130 strings to complement their instruments. The high tensile strength core wire and tin plating produce a full tone with ringing highs and controlled lows. These materials are carefully chosen to reproduce the signature Martin sound that has endured for over 180 years. The MA130 strings deliver the warmth, depth, and articulation that Martin guitars are famous for.

In addition to premium materials, the MA130 strings feature precision construction for effortless playability. The carefully calibrated string gauges provide ideal tension and flexibility, allowing complex chords and melodies to ring out with clarity. The silk-steel combination produces a smooth feel under the fingers for hours of comfortable playing. The MA130s make acoustic instruments highly responsive and a joy to play.

The MA130 acoustic strings are built to withstand the demands of performance and practice. The tin-plated steel wire is highly resistant to corrosion and oxidation, maintaining tone and playability over time. Precision winding and high quality silk also provide enhanced durability. Musicians can count on the MA130s to deliver consistent sound and feel gig after gig.

For over 180 years, C. F. Martin & Co. has been crafting premium acoustic guitars and strings. The MA130 Authentic Acoustic Guitar Strings continue this tradition of excellence, reproducing the legendary Martin tone and feel that musicians around the world rely on. Experience the difference premium strings can make to your instrument.