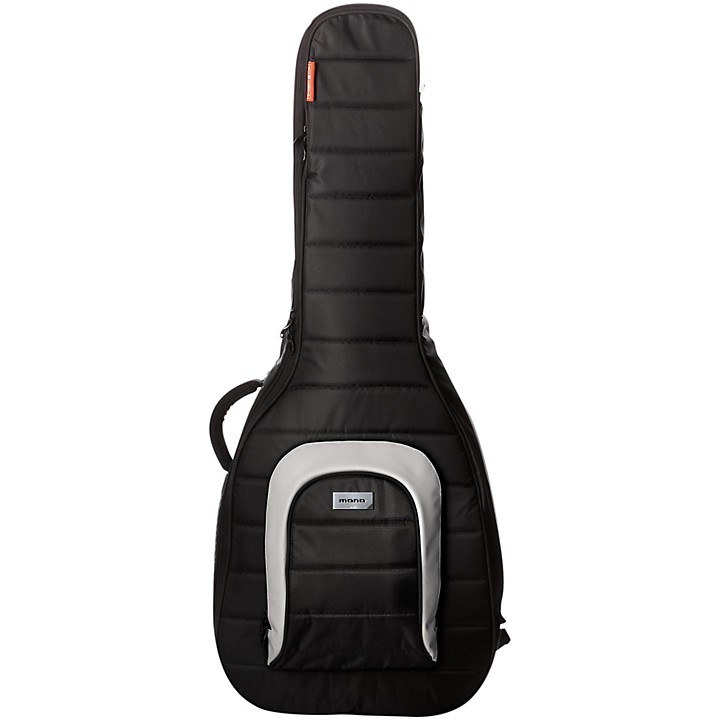 Specially designed to keep the key parts of your classical or OM guitar safe from the outside world.
Lke the rest of the M80 Series Mono Cases, the M80-AC Classical/OM case is designed from the inside out to be one of the lightest, thinnest, strongest, and most versatile carrying solutions for the professional musician. A hybrid case featuring an ultra-light laminated foam shell with strategically placed ABS panels, the M80 Classical/OM Case provides an extremely high level of protection for your most-prized investments. Smart features like the Clip/Tuck straps make for easy airport travel, while the streamlined profile helps you slip through the crowds.

Slightly more compact, the M80-AC is designed to fit smaller body classical, OM and 000 style acoustic guitars, like the Martin OM, Collings C10, Larrivee OM, Yamaha Classical models and others. If you are unsure about the fit for your guitar, make sure it does not exceed any of the maximum dimensions shown just to be safe.

Strap it On
Mono Cases' innovative neckbrace design provides a level of protection worthy of the finest instruments. Your guitar quickly straps in and remains stabilized during transport. The headstock is suspended inside the case, saving the guitar from impacts that could otherwise snap the neck.

Wear It Out
The M80-AC Classic/OM case is built to military specs, using only high-test materials with extreme resistance to abrasion and the elements. Inside, the plush lining protects delicate custom finishes. So your guitar rides first class while you launch an urban assault.

Plug and Play
This case is designed so that everything is in its place. Specialized storage compartments put your gear right where you need it. Deep gussets make sure your small items stay put. And the hidden upper pocket keeps your wallet, keys, and cell concealed on a subway or train ride.

Specifications
Dimensions: 15"W (lower bout), 13" (upper bout), 7"W (headstock), 16"L (between upper and lower bout), 41"L total, and 4.5"D (max.)
Features
Neckbrace absorbs horizontal impact, keeping headstock safely suspended
Turning pegs are kept away from the sides of the case minimizing de-tuning from side impact
On vertical drops, the impact is diverted up and away from the strap pin
Integral ABS panels deliver hardcase protection at a fraction of the weight
Steel rivets on handle
Solid rubber sole is concrete-proof
Waterproof Sharkskin outer shell
Anti-skip zippers
Pick pocket
Clip-tuck straps allow you to quickly stash 1 or both shoulder straps on the fly
Hidden headstock pocket
3-year warranty