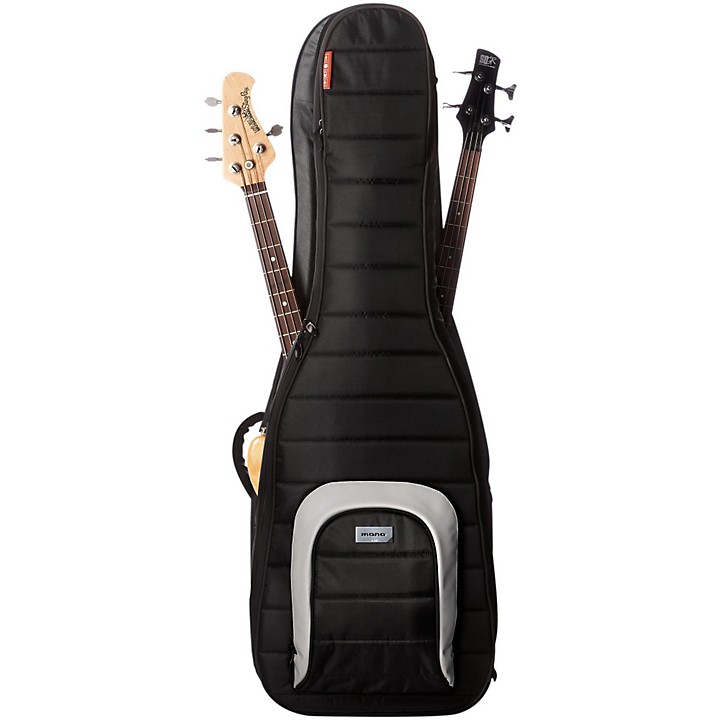 A bass guitar case that's engineered to protect two axes simultaneously and hold your accessories discretely.
In transit, carrying 2 bass guitars can get awkward yet having that second bass guitar on stage or in the studio is often necessary. Mono Cases set out to design an elegant solution to this problem. Their driving criterion was to ensure each bass had the same protection as their single M80 hybrid case. After a year of prototyping, the Z-form design was perfected (patents pending). The end result is an incredibly lightweight, extremely rugged double hybrid guitar case.

The zigzag design on the Mono M80 multi-bass case creates a completely separate compartment for each bass. That means both headstocks are protected with the neckbrace feature and strap pin bumpers. It also means the M80 Dual can be used with 1 or 2 bass guitars-something you'll appreciate on the road. Additionally, the Z-form design allows for immediate access to either bass. Grab one from the left side or the other from the right side.

Mono Cases' innovative neckbrace design provides a level of protection worthy of the finest instruments. Your bass guitar quickly straps in and remains stabilized during transport. The headstock is suspended inside the case, saving the guitar from impacts that could otherwise snap the neck.

Mono Cases builds their bass cases to military specs, using only high-test materials with extreme resistance to abrasion and the elements. Inside, the plush lining protects delicate custom finishes so your bass rides first class while you launch an urban assault.

With this electric bass case, everything is in its place. Specialized storage compartments put your gear right where you need it. Deep gussets make sure your small items stay put, and the hidden upper pocket keeps your wallet, keys, and cell phone concealed.

The Mono M80 bass case fits 2 standard body electric guitars including Fender Tele/Strat, Gibson, Les Paul, Ibanez, and ESP.

This product is covered under Mono Cases' 3-year limited liability warranty.

Features
Dimensions: 48" H x 12-1/2" W (upper bout), 14-1/2" (lower bout) x 2" D
Weight: 8 lb.