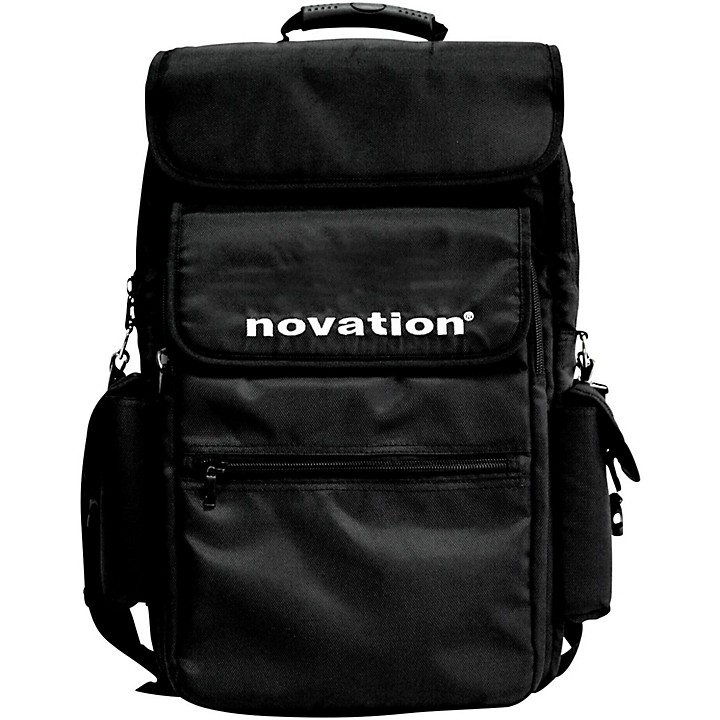 Carry bag for laptop and small-format controller.
Novation's laptop bags carry more than just your laptop. This bag fits all Novation 25 key Synths or MIDI controllers, such as the X-Station 25 or ReMOTE 25SL. An additional divide can be used if you wish to split the compartment and house headphones, cables and other accessories. This space is also ideally sized to house either Focusrite's desktop Saffire solutions, a Novation nio 2|4 or the new Nocturn.

The laptop space is large enough to house a 17" laptop (without using protective sleeve), complete with velcro straps to secure it. Additionally, a space for sheet music is provided on the rear and the bag features both a handle and shoulder strap.



Features
Sized to fit most 25 key Synthesisers or MIDI controllers
Optional divide provides a cushioned compartment, ideal for headphones.
Sized to also fit most 2U and 1U products, such as Focusrite's Saffire PRO.
Laptop space able to house a 17" laptop (without using protective sleeve)
Laptop protector comes free, while stocks last - can house up to a 15" laptop.
Handle and shoulder strap provided as standard.
Exterior: 18 x 11.6 x 4.3 in.
Interior laptop space: 16 x 11.6 x 4.3 in.
Laptop Protector: 13.4 x 9.6 x 4.3 in.