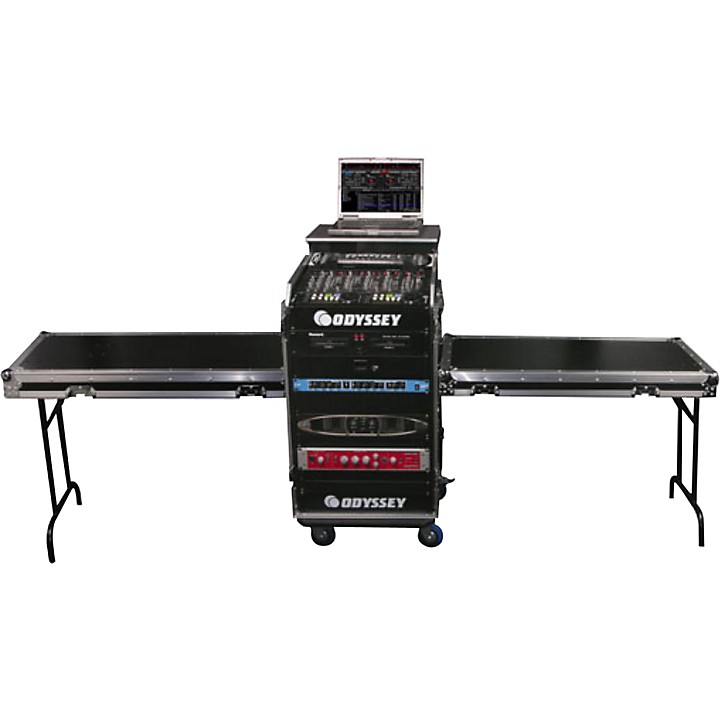 Everything you need in a DJ Rack.
Introducing the newest edition in the ever-popular Odyssey Flight Zone "DLX" Glide Style Combo Rack series. The FZGS1214WDLXII Deluxe Dual Table Case lets you mount mixers and controllers on top for convenient access and all other rack essentials below. Features include rear rack rails and heavy-duty casters on a dolly plate (two casters feature sure stop brakes). The Deluxe Dual Table DLX-II series features both front and back lids that convert into side tables. Attach one or both when you need that extra table space for your gear. (weight capacity on each table is 200 lb. evenly distributed).

Specifications
Approximate Dimensions (exterior): 21.5"W x 45"H x 31.25"D
Approximate Weight: 115 lb.
Approximate Shipping dimensions (exterior): 22" x 39" x 32"
Approximate Shipping weight: 124 lb.
UPC barcode: 807822028843
Features
Designed to transport your laptop
Slanted rack: 12 spaces
Vertical rack: 14 spaces
Removable front & rear lids
4" Heavy duty casters (2 w/brakes)
Both lids convert into a side mount table
Heavy-Duty Recessed hardware and latches
Backed by our Limited Lifetime Warranty
Table Height is 28.75"
Interior lid depth is 3"