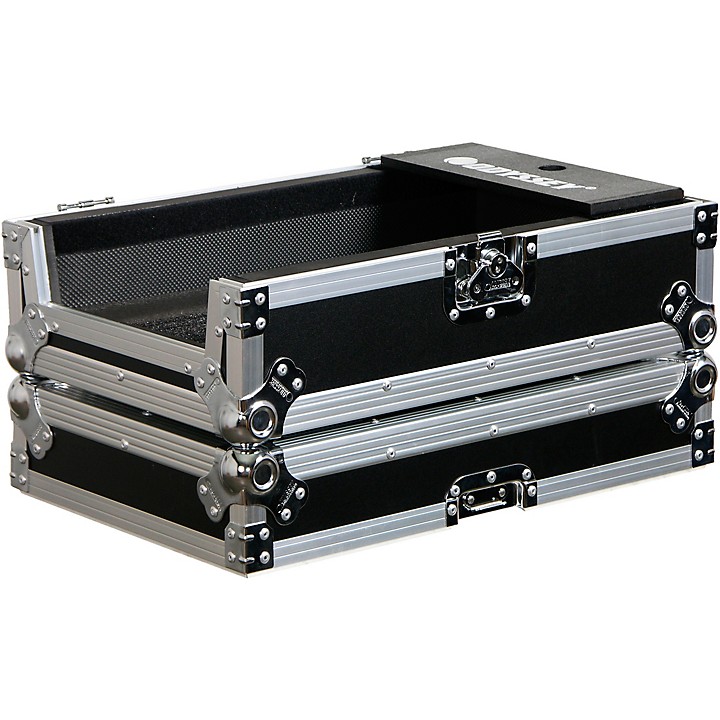 Holds a 10" Format DJ Mixer & 2 Turntables In Battle Position
As the evolution of the DJ continues, so does the designs of Odyssey DJ coffins. Introducing the REMIXER GLIDE STYLE Series DJ coffins featuring a full width glide platform to place all your DJ remix gear. With digital vinyl software such as Serato and Traktor Scratch, more DJs have gone through the transition from beat mixer turntablist to full on remixer producer. Remixing tools to the DJ, such as keyboards and controllers to laptops and iPADs are now so easily availability and affordable, and Odyssey is there in the middle of it all providing these DJs the most functional DJ coffins yet with the REMIXER GLIDE STYLE Series.

The Glide Style Coffins features the patented Laptop platforms that glide forward and backward over the mixer and turntables. Other features include rugged built-in wheels, heavy-duty spring loaded latches, stacking ball corners, and removable front access panels. Cabling is clean and easy through convenient access ports throughout the coffin. Accommodates Technics as well as Numark and Stanton turntables.
Features
All Black Anodized and Powder Coated Hardware
Patented Full Width Glide Platform
Heavy-Duty Ball Corners
Built-in Corner Roller Wheels For Easy Transport
Removable Front Mixer V-Cut™ Panel
Rear and Bottom Cable Ports
Recessed Handle and Latches
Mixer and Turntable Ventilation Pits
Turntable Wells Hold Turntables with a Width of 18", Depth up to 15"
Mixer Well Holds Mixers with a Width from 8.75" to 10.5" Depth up to 14" and 3.25" Tall.
Mixer Width Adjustment Foam Strips Included
Limited Lifetime Warranty