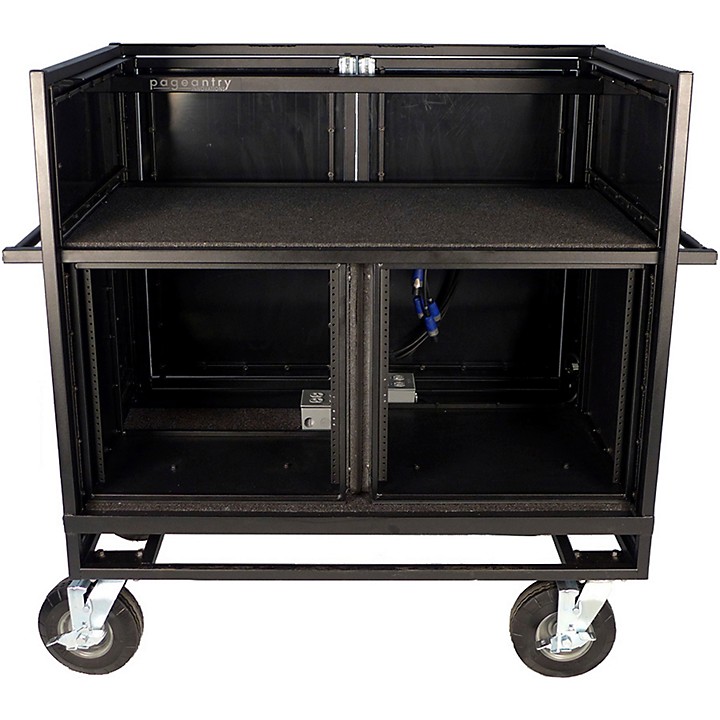 Larger mixer cart with space for rack gear, a cable drop and wiring attributes and stealth characteristics.
The MC-20 is Pageantry Innovations' double mixer cart. In the Goldilocks hierarchy, this one may be "just right," as it is a little bigger than the MC-10 but not as large as the MC-25 or -30. It has a 1.5 in. square tube accessory bar and foamed shelf that stands 36 in. from the ground and measures 22 x 43 in.

All of Pageantry Innovations' mixer carts have removable top and rear covers as well as front hinged doors that open and allow for easy wiring. Also, the MC-20 has 20 free-floating spaces.

The rear cable drop space and the eight internal outlets (which link to one power inlet) reflect PI's experience and thoughtfulness in design and building. This cart also has two Speakon NL4 jacks linked to four Speakon NL2 internal cables.

Other than its doubled size, one of the biggest differences between the MC-20 and the smaller MC-10 model is the snake storage and access door. Storage space is paramount in any event reinforcement context, and the door provides tremendous convenience.

This item is the Stealth Series version of the MC-20. Stealth Series carts feature texture black powder-coated hinges and black oxide hardware that is unobtrusive on the field or in the convention hall.

Wiring upgrades available upon request: Signal (XLR male, XLR female, USB A and USB B), Power (Edison inlet, Edison outlet, PowerCon in and PowerCon out) and Networking (Ethercon).

Features
1 in. Square tube construction
1 ½ in. Square tube internal accessory rail
2 Speakon NL4 jacks linked to 4 Speakon NL2 internal cables (customizable)
One power inlet linked to 8 internal outlets
Built-in rear cable drop
20 free floating rack spaces
Internal snake storage compartment
8 in. Flat-Free swivel locking casters
Stealth design characteristics