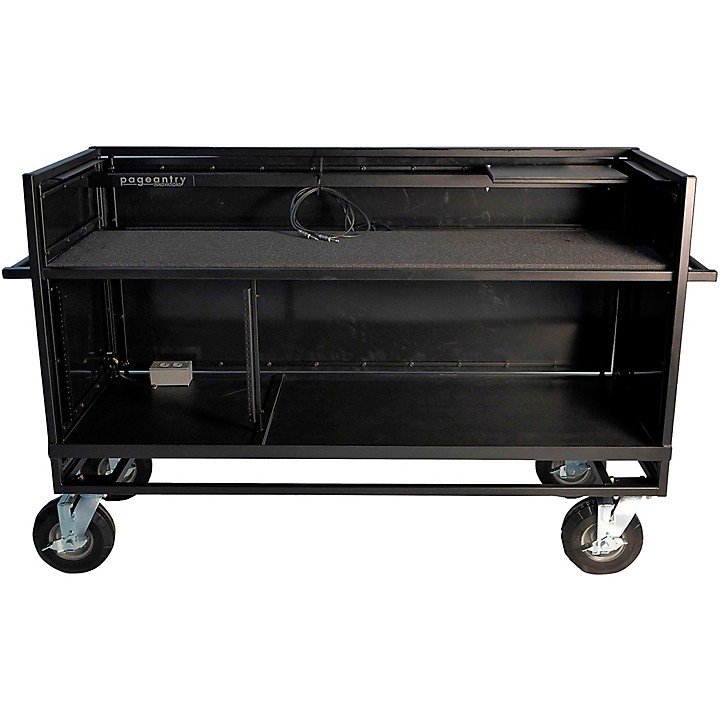 Ideal for synth, samplers, pads, laptops and more.
This cart was designed with a synth in mind. It features a foam shelf is 60 x 16 in. and it sits 33 in. from the ground. The KC-30 has a 1.5 in. square tube internal accessory rail, meaning you can mount anything over the keyboard (think samplers, keyboard controllers, electronic pads, etc.). It also includes a laptop shelf. This model comes equipped with the Super Stealth option, which is a hardware treatment that makes it less reactive under stage lighting.

The bottom section of the KC-30 has eight rack spaces on the left as well as a single power inlet with two internal outlets. Now you can plug your power conditioner and whatever else directly into the cart, roll onto the field, and only worry about running power to the cart.

The cart is also equipped with two XLR male connectors (internal cabling not included). The KC-30 is an enclosed cart so it comes with a top cover and a back cover and a handy little storage shelf underneath for them.

Wiring upgrades available upon request: Signal (XLR male, XLR female, USB A and USB B), Power (Edison inlet, Edison outlet, PowerCon in and PowerCon out) and Networking (Ethercon).
Features
33 in. Keyboard shelf height
High-density shock-absorbing keyboard shelf
1 in. square tube internal accessory rail
Laptop tray
One power inlet linked to 2 internal outlets
2 XLR Male Connectors (internal cabling not included)
High-density texture black abs panels
Built-in rear cable drop
8u space rack
Super Stealth option
8 in. Flat-free swivel locking casters