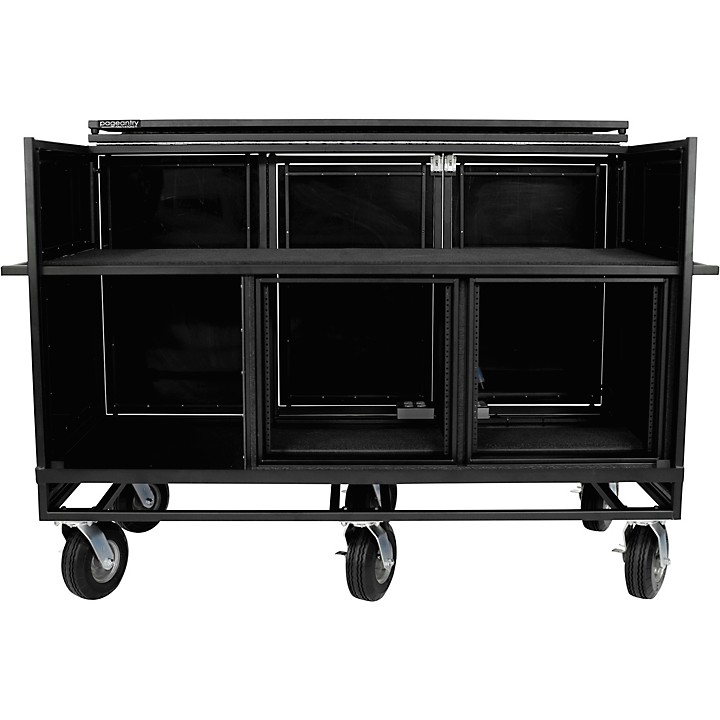 Large mixer cart wired for sound.
The MC-30 Triple Mixer Cart is head of the mixer cart household. With a foamed shelf measuring 22 x 63.75 in. and standing 36 in. from the ground, this cart has plenty of room for your mixer, sampler or laptop. Additionally, the accessory bar runs the length of the cart for optimal load-it-down-ability.

The MC-30 is equipped with 1 power inlet linked to 8 internal outlets as well as 2 Speakon NL4 jacks linked to 4 Speakon NL2 internal cables. Add in front hinged double doors and 20 full-depth rack spaces. It's also got a full panel access door with ample dedicated snake storage. This model includes the popular option, the Bi-Fold Cover, which protects your equipment during transport and storage.

Wiring upgrades available upon request: Signal (XLR male, XLR female, USB A and USB B), Power (Edison inlet, Edison outlet, PowerCon in and PowerCon out) and Networking (Ethercon).

Features
1 in. Square steel tubing
1.5 in. Internal accessory rail
Texture black powder coat, high-density texture black abs panels
Standard stainless steel hardware
1 power inlet linked to 8 internal outlets
2 Speakon NL4 jacks linked to 4 Speakon NL2 internal cables
Large independent internal snake storage compartment
Removable large snake door, built-in rear cable drop
Shock-absorbing black polyethylene mixer shelf
Lower storage compartment for top cover
20 free floating rack spaces, 8 in. flat-free swivel locking casters (6)
Bi-Fold Cover Upgrade