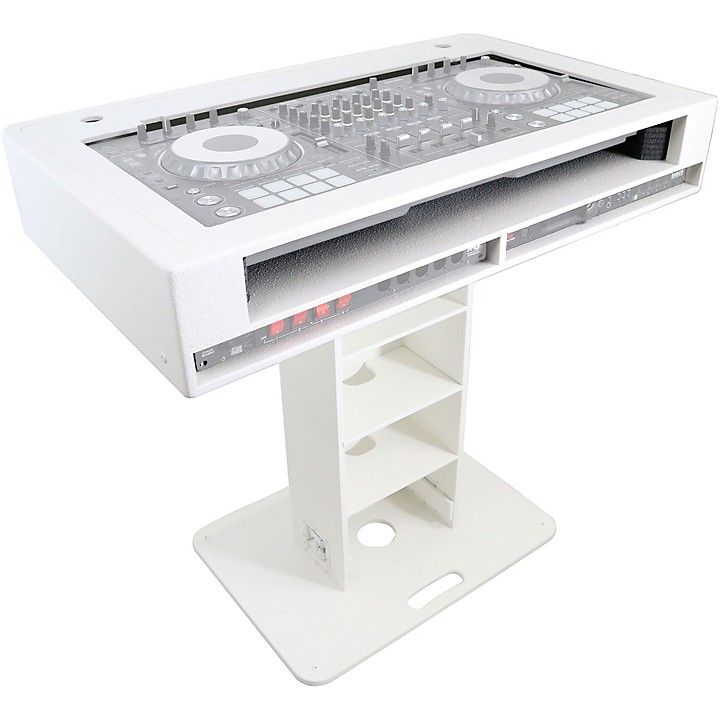 Equipped with three-tier shelves for utility storage, mics, and cables.
The ProX Control Tower DJ Podium XZF-DJCTW2UCS w/ 2U for Pioneer XDJ-XZ, DDJ-1000 / SRT, DDJ-SX3, and DDJ-SZ2 is Made in Poland for ProX by ZCase. This podium style stand is designed and built to make transport and setup quick and easy. The inside of the control deck is lined with foam and includes three frame tops for the final touch to each compatible controller.

The ProX Control Tower DJ Podium is the Crown Jewel for DJs who are looking to add an elegant touch to your wedding, night club, and event gigs. The podium center is equipped with three-tier shelves (for utility storage, mics, cables, etc). It has a 3-inch height space located underneath the controller. The base of the stand cable hole for neatly running audio and power.

This package also includes two heavy-duty ATA style cases with tilt-n-go rubber wheels for easy transportation. Setup is very easy and locks together with color matching latch locks. No other DJ stand or matches the quality and convenience of the Control Tower™ DJ Podium by ZCase from ProX Live Performance Gear.

Features
Includes Two ATA Style Road Cases
Fits Pioneer XDJ-XZ, DDJ-1000/SRT, SZ2, and SX3 controllers
2space under the controller
Tilt-and-go tough rubber wheels
3-tier shelving located at the center shaft
CNC cut Grade A birch plywood
Environmentally-friendly Warnex textured black paint
To Fit
Pioneer XDJ-XZ
Pioneer DDJ-1000 SRT
Pioneer DDJ-SZ2
Pioneer DDJ SX-3