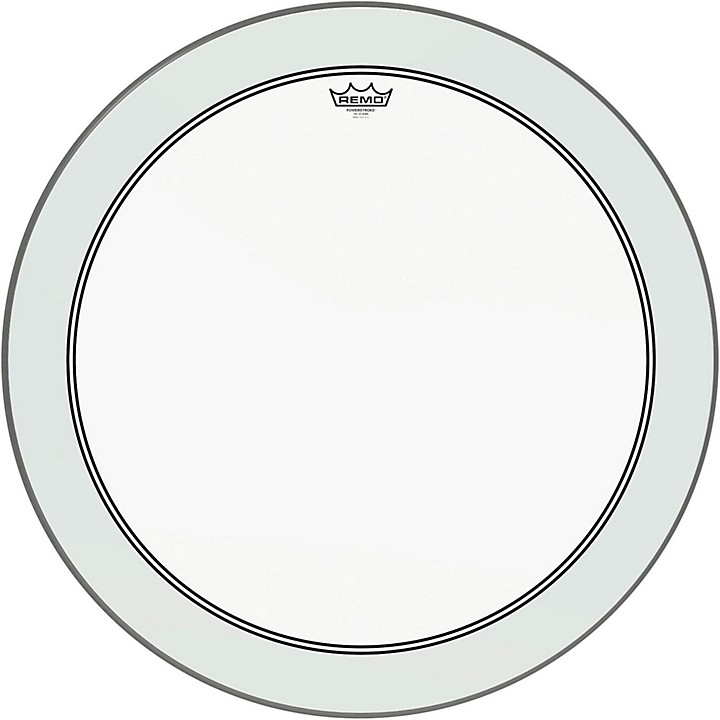 A resonant drumhead with dampening for focused tone.
The Remo Powerstroke 3 Clear Bass Drumhead provides a balanced tone and responsive feel for drummers seeking depth and control. Featuring Remo's popular Powerstroke 3 dampening ring, this 22" drumhead subtly reduces overtones around the edge while allowing the center to resonate freely. The result is a full, punchy kick drum sound that stays tight and defined. For extra durability and attack, a white Falam impact patch reinforces the point of beater contact.


Powerstroke 3 Dampening Ring Tames Overtones
Remo's proprietary Powerstroke 3 dampening ring is bonded to the outer edge of the drumhead, gently absorbing excess vibration. This focused dampening helps produce a deep, focused tone from your bass drum while preventing a "ringy" overtone. The Powerstroke 3 ring is carefully tuned to reduce just the right amount of overtone, resulting in an ideal balance of resonance and control.


Falam Impact Patch Withstands Heavy Beating
For drummers who lay into their kick drum, the white Falam impact patch provides reinforcement right where the beater strikes the head. This dense patch absorbs the force of each stroke, preventing dents and other damage to the drumhead. The patch also helps produce an articulate attack with each kick drum strike for a satisfyingly punchy bass drum sound.


One-Ply Clarity Enhances Natural Shell Tone
Made from a single ply of Remo's proprietary Mylar film, this drumhead provides maximum resonance to enhance the natural tone of your kick drum shell. The thin, transparent film allows the shell's acoustic properties to shine through for organic bass drum sound. This clarity of tone makes the Powerstroke 3 an ideal choice for drummers seeking a natural, resonant kick drum sound with focused control.

Order the Remo Powerstroke 3 Clear Bass Drumhead today.