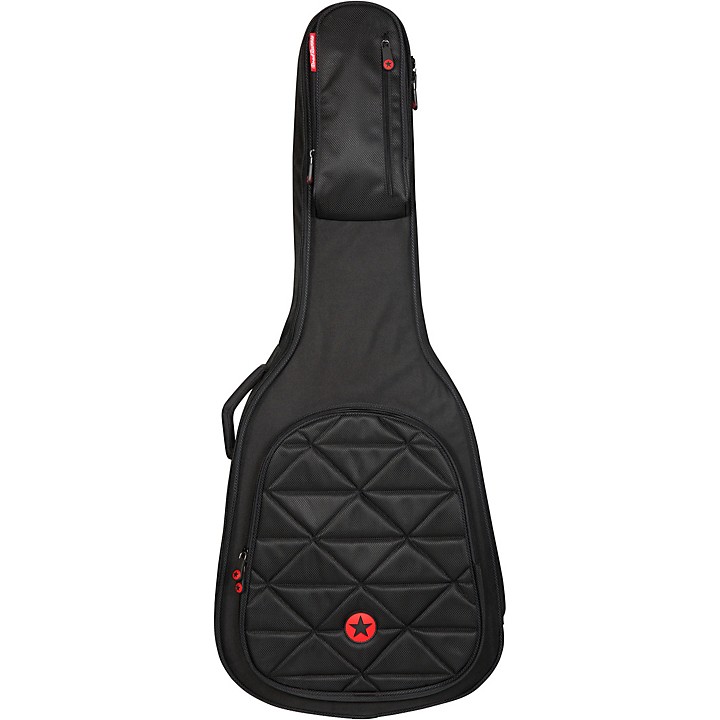 A comfortable and safe way to travel with your guitar.
When it's time to hit the town with style, whether for gigging, practicing, lessons, jamming with friends or rehearsing with the band, the Road Runner RR4TOM Boulevard II OM Series guitar bags is a perfect solution. Designed with an eye-grabbing black quilt pattern, they're ideal for playing out, keeping your OM-sized guitar safe from dings, dents, scratches, scuffs and everyday wear-and-tear that happens when you're a busy musician on the go. Rugged, weather-resistant exterior withstands local cartage from your home to rehearsals, practice, jams or lessons. A smooth-lined interior with thick, 20 mm foam padding keeps your instrument safe. Reinforced interior panels protect wear-prone areas from bridges and machine heads. You'll also find two external pockets and two zippered sleeves for sheet music, mobile tablets, cables, straps and an extra comfortable padded handle and (stowable) backpack straps.
Specifications
Exterior Length: 43.25"
Exterior Width: 21.75"
Exterior Depth: 4.75"
Features
600 denier weather-resistant polyester covering with stunning black quilt design
Thick 20 mm interior padding throughout
Reinforced interior panels at critical areas
Two outside storage pockets and two zippered sleeves
Rugged no-rust nylon zippers
Rubberized sure-grip zipper pulls
Stow-able, adjustable backpack-style shoulder straps
Comfortable, padded carry handle
Exterior bottom rubber guard
Convenient, built-in hanger-hook