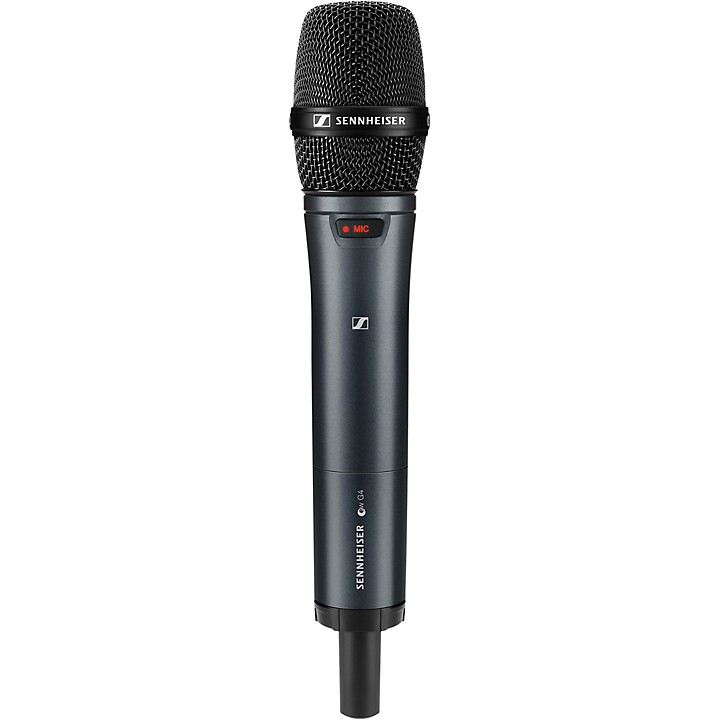 For evolution G4 100 Series systems.
Powerful handheld transmitter with a lightweight aluminum housing and integrated mute switch for evolution wireless G4 100 Series systems.
Specifications
ModulationFrequency ranges
A1: 470–516MHz
A: 516–558MHz
AS: 520–558MHz
G: 566–608MHz
GB: 606–648MHz
B: 626–668MHz
C: 734–776MHz
D: 780–822MHz
E: 823–865MHz
JB: 806–810MHz
K+: 925–937.5MHz
1G8: 1,785–1,800MHz
Transmission frequencies
Max. 1,680 receiving frequencies, adjustable in 25kHz steps
20 frequency banks, each with up to 12 factory-preset channels, no intermodulation
1 frequency bank with up to 12 programmable channels
Switching bandwidthNominal/peak deviationFrequency stabilityRF output power at 50 ohmPilot tone squelchAF characteristicsCompander systemAF frequency responseSignal-to-noise ratio (1 mV, peak deviation)Total harmonic distortion (THD)Max. input voltageInput impedanceInput capacitanceSetting range for input sensitivity
48dB, adjustable in 6dB steps
Temperature rangePower supply
2 AA batteries, 1.5V or BA 2015 accupack
Nominal voltage
3V battery
2.4V rechargeable battery
Current consumption
At nominal voltage:
Typ. 180 mA
With transmitter switched off: ≤ 25 μA
Operating timeDimensionsWeight (incl. batteries)
Features
Your choice of Sennheiser's renowned e 835, e 845, e 865, e 935, e 945 capsules
Easy and flexible wireless synchronization between transmitter and receiver via infrared
Fast frequency allocation for up to 12 receivers via new linking functionality
Up to 20 compatible channels
Up to 42mHz bandwidth with 1,680 selectable frequencies, fully tunable in a stable UHF range
Transmission range: up to 100 meters/300 feet
High RF output power (up to 30 mW) depending on country regulations
Includes
SKM 100 G4 or SKM 100 G4-S handheld transmitte
MZQ 1 microphone clamp
2 AA batteries
Quick guide
Safety guide
Manufacturer declaration sheet
WARNING: Cancer and Reproductive Harm www.P65Warnings.ca.gov.