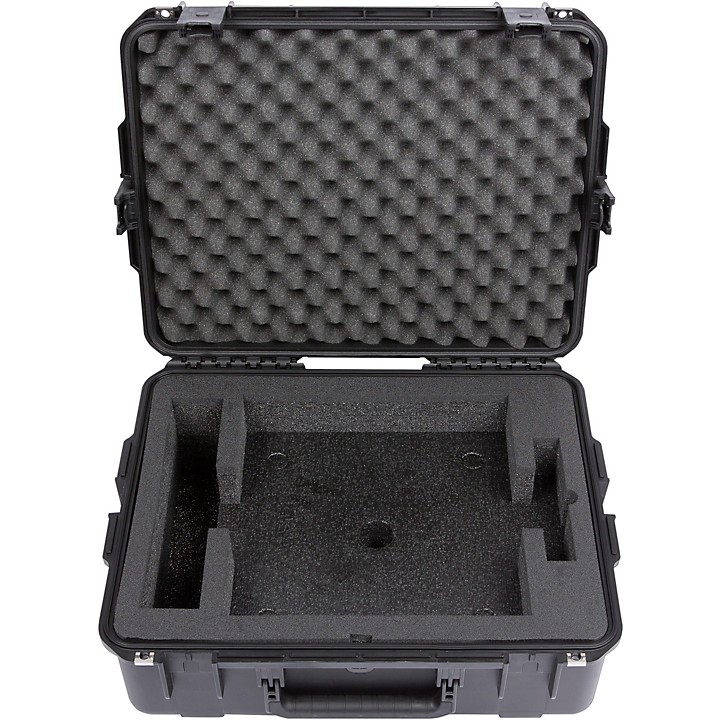 Rugged protection and security for your Alesis Strike Multipad.
The iSeries 3i-2217-8AS is designed to accommodate the Alesis Strike Multipad with the ball mount attached. The interior features high quality foam that will secure the unit as well as providing space for the power supply and other accessories. The accessory compartments measure 13.625" x 2.75" x 6" and 8" x 1.375" x 2.875".

All SKB iSeries Injection Molded Mil-Standard Waterproof Cases are molded of ultra high-strength polypropylene copolymer resin, and feature a gasket-sealed, water and dust tight, submersible design (MIL-C-4150J / IP67). Other standard features include a molded-in hinge, patented trigger release latch system, comfortable, snap-down rubber over-molded cushion grip handle, automatic ambient pressure equalization valve (MIL-STD-648C), and resistance to UV, solvents, corrosion, fungus and impact damage (MIL-STD-810F).
Specifications
Exterior Length: 24.32 in. (61.77 cm)
Exterior Width: 19.50 in. (49.53 cm)
Exterior Depth: 8.86 in. (22.50 cm)
Carton Length: 24.75 in. (62.87 cm)
Carton Width: 20.00 in. (50.80 cm)
Carton Depth: 9.50 in. (24.13 cm)
Product Weight: 13.00 lb. (5.90 kg)
Features
Accommodates the Alesis Strike Multipad with ball mount attached, as well as power supply and other accessories
Two accessory compartments measuring 13.625" x 2.75" x 6" and 8" x 1.375" x 2.875"
Waterproof and dust tight design (MIL-C-4150J / IP67)
Molded-in hinge for added protection
Trigger release latch system
Snap-down rubber over-molded cushion grip handle
Ambient pressure equalization valve (MIL-STD-648C)
Resistant to UV, solvents, corrosion, fungus (MIL-STD-810F)
Resistant to impact damage (MIL-STD-810F)