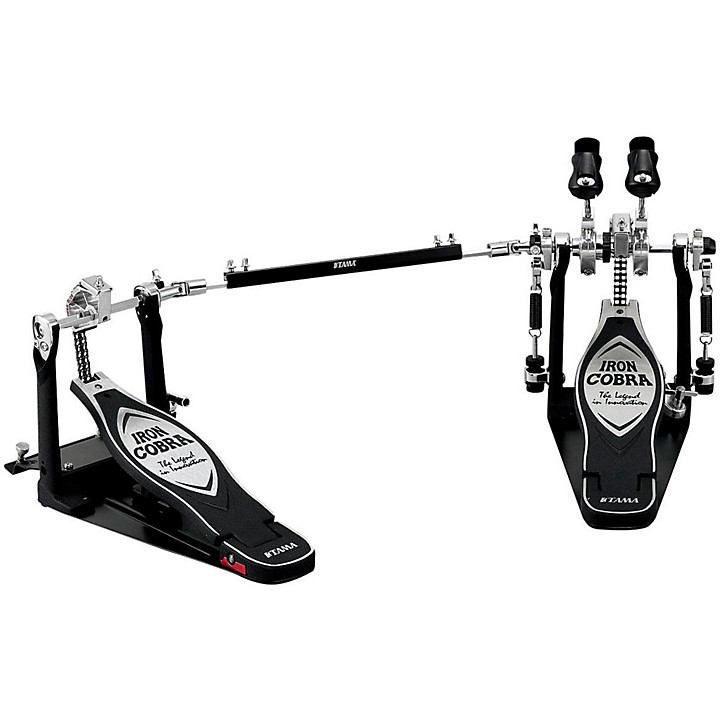 Smoothness. Adjustability. Stability.
This Iron Cobra Power Glide is a twin kick pedal for the serious player. The pedal's solid foundation can be attributed to its Super Stabilizer design that incorporates a wider baseplate and frame for absolute stability. At each pedals heel, the specially designed 3-piece Hinge Guard Block provides a more durable hinge point and also lengthens the footboard for increased leverage.

At the heart of the Iron Cobra is the Power Glide cam, which is now the lighter, smoother, more natural-feeling LiteSprocket design. This cam is an offset double-chained Power Glide cam, which accelerates the stroke powerfully as it travels toward the bass drum head. The Speedo-Ring rocker cam is yet another example of streamlining, eliminating spring friction with a high-quality, built-in ball bearing rocker. The Quick-Hook spring attachment eliminates wobbling, provides maximum power transmission to the Speedo-Ring, and helps facilitate quicker setup. To further improve speed and beater stroke action, the adjustable Cobra Coil spring-return constantly works to push the footboard back to its original position, tightening the relationship between players foot and the pedal.

Perhaps one of the most innovative developments of the HP900PWN is its Swivel Spring Tight tension-locking mechanism, which is designed to rock or swivel, allowing freer spring movement and a smoother overall feel. The smartly redesigned Power-Strike Cobra Beater provides a fatter, yet more focused sound and optimizes beater action for strong, precise impact. Finally, the Iron Cobra brings an end to makeshift methods of trying to protect the bass drum hoop: the Para-Clamp II Pro holds the pedal securely to the bass drum hoop without scratching it or slipping, thanks to an enlarged rubber padded clamp piece.

The Iron Cobra HP900PWN includes a custom hardshell carrying case for safe transport.
Features
Rolling Glide cams
LiteSprocket
Quick-Hook spring attachment
Cobra Coil return springs
Speedo-Ring rocker cams
Swivel Spring Tight tension posts
Power-Strike Cobra beaters
Para-Clamp II Pro
3-Piece Hinged Guard block
Super Stabilizer design
Includes hardshell carrying case