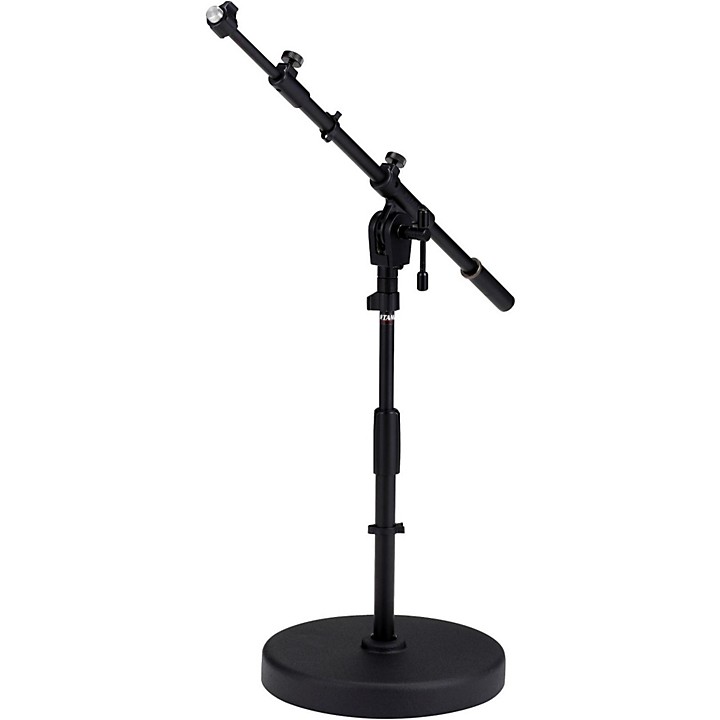 Low-profile telescoping boom stand boom stand with cast round base.


The Iron Works Tour Series MS456RLBK low-profile telescoping boom stand with heavyweight, cast round base is equipped with innovations in value, performance, and durability. Similar to the MS456LBK tripod-based stand, the MS456RLBK's even weightier round base is the right option for mic-ing drums or amplifiers when the safety of your favorite, large-body mic is at stake.

The die-cast locking thumb nut's larger, sure-grip design allows greater leverage for faster, easier set-up and breakdown. And Iron Works' sturdy zinc, die-cast adjustment collar will be appreciated by drummers burned by the performance failure of flimsy plastic collars.

A cleverly designed Latch-Lok Sleeve Insert inside the main height adjustment mechanism prevents the collar from wearing out over time—so you'll never have to worry about endless collar turning that fails to ever tighten its grip.

Abandoning the weak standard gripping methods used by economy grade stands, the Iron Works Tour stand Cast-Grip Boom Tilter utilizes two zinc die-cast pressure pads that maximize surface gripping area to deliver optimal holding power.

With its solid-core core telescoping )iron boom arm and counterweight, Iron Works boom stands safely and securely hold heavy microphones and accessories.

The innovative Iron Works series will earn your appreciation during set-up and teardown, yet it's always supporting you in the background during performance—when your mind is on more important matters.

Features
Cast-Grip Boom Tilter
Die-cast Locking Thumb Nut
Iron-Core Boom Arm with counter weight
Sure-Cast Adjustment Collar
Latch-Lok Sleeve Insert
Heavier cast round base w/rubber bottom cushion
Detachable Boom Arm
Height: 410mm – 565mm (16.1" – 22.2")
Boom: 505mm – 845mm (19.9" – 33.3")
Weight: 7.1 kg (15.6 lb)