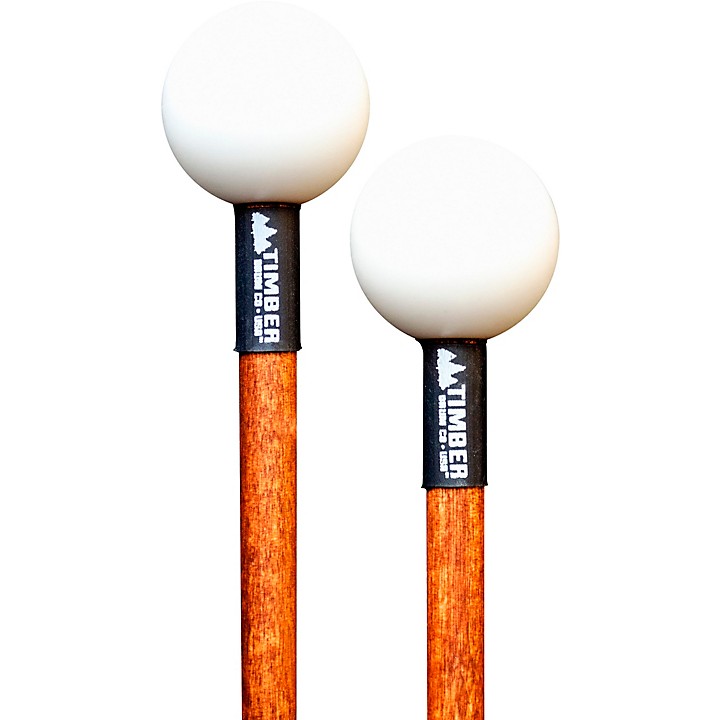 Compact, hard poly mallets for a percussive attack and bright tone.
The Timber Drum Company T2HP Hard Poly Mallets deliver a clear, bright tone and balanced feel for any percussionist. Handcrafted in Nashville, Tenn. these high-performance mallets feature 1" hard poly tips and solid birch handles, providing an articulate attack and comfortable grip. Whether you're performing with a professional orchestra, community band or simply exploring percussion at home, the T2HP mallets are versatile, durable and tailored to your playing needs.
Hard Poly Tips for Crisp, Resonant Sound
The T2HP mallets' hard poly tips produce a crisp, resonant tone on instruments like xylophones, wood blocks, bells, glockenspiels and crotales. Their 1" diameter creates an industry-standard strike for precise, controllable sound. The poly material's dense construction helps notes sing and minimizes excessive overtones, allowing the mallets to cut through mixes with clarity.
Balanced Birch Handles for Control and Comfort
Hand-finished birch handles provide a lightweight yet sturdy platform for the hard poly tips. At 13" long, the handles give percussionists ample reach while maintaining balance and control. Their rounded edges fit comfortably in the hand during extended playing sessions and help prevent fatigue. The birch wood's natural finish highlights the material's attractive grain and American craftsmanship.
Premium Components and Construction
As with all Timber Drum Company products, the highest quality materials and workmanship go into the T2HP mallets. The hard poly tips are securely mounted and precisely weighted to match the birch handles. Before shipping, each pair of mallets is hand tested to ensure premium performance and consistency. The mallets' all-American construction also provides exceptional durability for professional use.
Features
Made in the U.S.A.
Solid birch handles
Hard polyurethane heads for clear, bright tone
13" length
1" diameter head
WARNING: Cancer and Reproductive Harm www.P65Warnings.ca.gov.