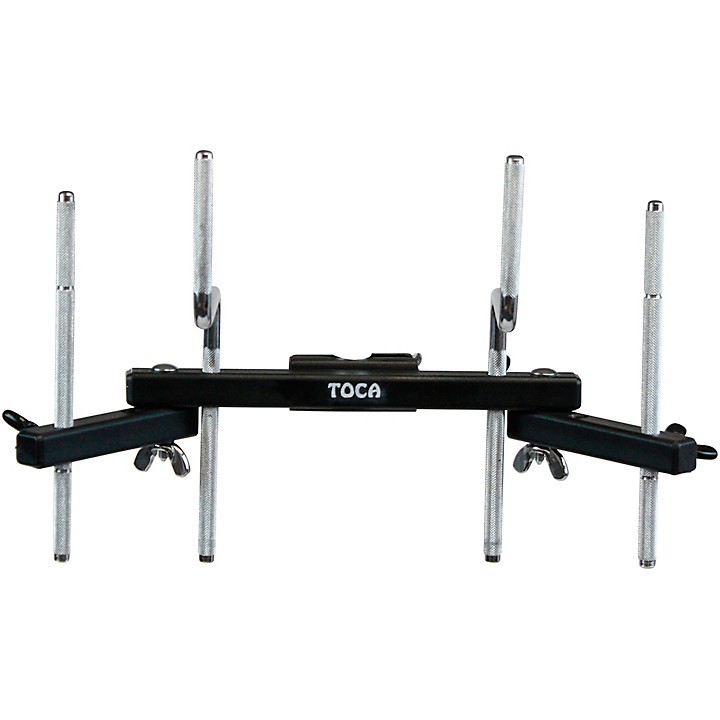 Steel accessory mount clamps to any common stand and fits up to four accessories
This Toca adjustable accessory mount can hold up to four small percussion instruments. It clamps securely to any standard cymbal or mic stand with 3/8 to 1-1/8" tube diameter. This mount is an ideal solution for players who want to add multiple cowbells, tone blocks or other small percussion accessories to their rig at once. It's also an easy fix for singers and other performers who need easy access to auxiliary percussion instruments on stage.

This clamp features a sturdy frame, fitted with adjustable knurled chrome rods to suspend a wide range of instruments without slippage. Once attached, the entire mount folds easily to create either two or four mounting slots. The four slots are balanced with two on each side to ensure stability.

Add a suite of percussion sounds to any drum setup with this heavy-duty steel mount.
Features
Steel percussion mount fits up to four accessories
Clamps to any common stand between 3/8 and 1-1/8" in diameter
Folds to accomodate either two or four rods
Comes with two z-shaped rods and two straight rods
Perfect for drummers who want to add multiple percussion sounds at once