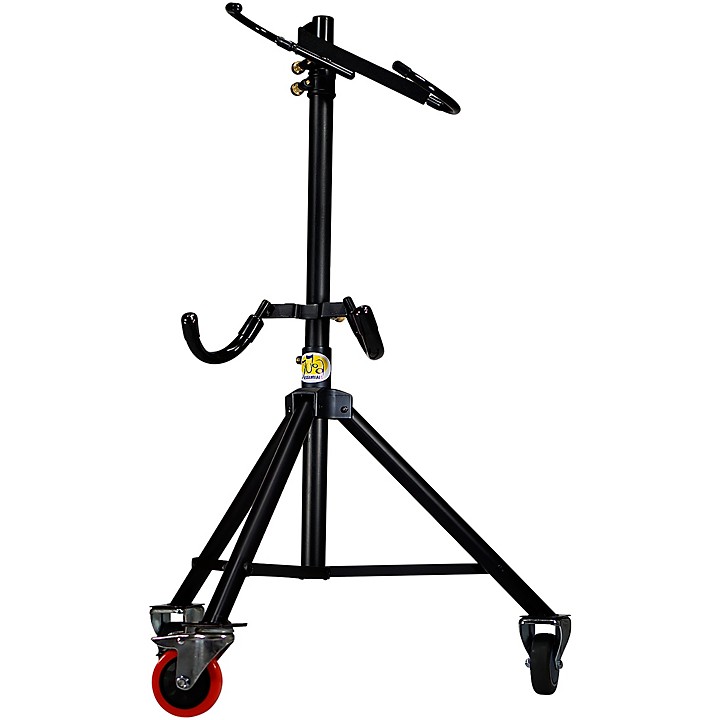 Left-side Hug stand for euphonium.
The Hug adjustable euphonium stand is designed to allow the musician who may not otherwise be able to play the euphonium, to actually experience the joy of playing the instrument. By addressing how the instrument is handled, the player does not need to worry about balancing or dropping the euphonium, but rather concentrate more on playing.

The Hug euphonium stand is adjustable to fit all players. The safety-coated arms are spring loaded, to easily insert and remove the instrument from the stand, but allowing a firm grip to prevent the instrument from moving while in the stand.

The Hug stand can be adjusted for playing in both sitting and standing positions, while the non-marring wheels and locking brake front wheel allow easy movement and secure stationary position when needed. Each Hug instrument stand is designed to fit certain model instruments. This stand is designed to fit euphoniums that have the mouthpiece on the left side. To determine which stand you need, look at the instrument from the musician's playing perspective as to whether the mouthpiece on the right or left side of the bell. This is the left-side model.