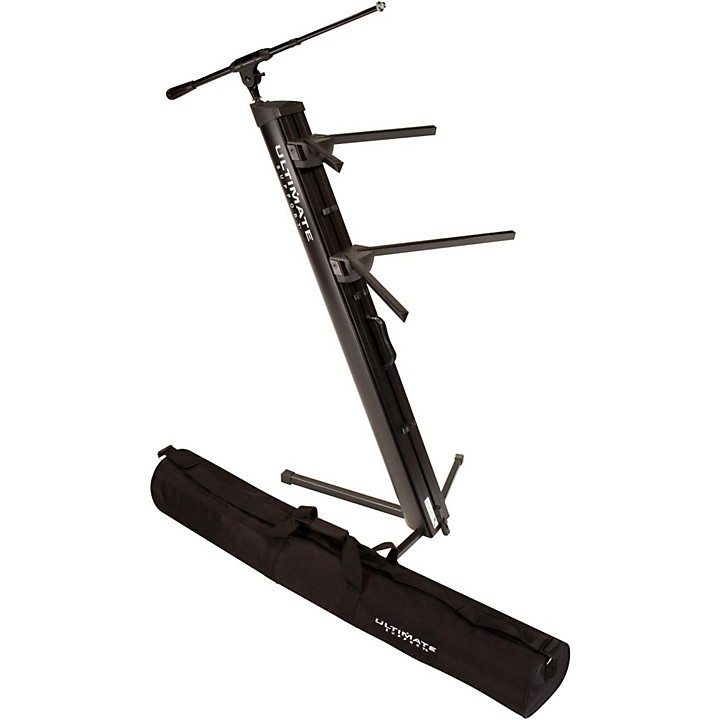 Two-tier portable column-style keyboard stand with boom attachment, telescoping boom and tote bag.
A NAMM Best of Show, Ultimate Support's APEX Series Keyboard Stands represent over two decades of research and development and are used all over the world by gigging keyboard players and touring musicians.The AX-48 Pro Plus bundle includes the venerable AX-48 Pro (Black), AX-48 Pro Mic Boom, and AX-48 Pro Tote. The APEX Series is the finest looking keyboard stands on the market, and are intended to shine the spotlight on keyboard players, while securely supporting their prized instruments.

Simple Setup and Tear Down
Setup and tear down takes seconds with the AX-48 Pro. It breaks down into a single, slender unit that's easy to transport and doesn't take up hardly any room because the hollow column becomes its own carrying case. The legs remain connected and slide into and out of the base of the column, and the arms that support your keyboards are stored in compartments at the top of the column.

Sleek, new design
The modern look and shape of the APEX AX-48 Pro brings the keyboard player out from behind a stack of no-character keyboard stands, and into the spotlight with the rest of the band. The footprint of the new AX-48 Pro has not changed from the previous APEX, but now offers an updated column design that is as aesthetically pleasing as it is performance-ready.

APEX-quality features
Everything keyboard players have come to appreciate about the APEX keyboard stand for over two decades is still available in the new APEX AX-48 Pro. It's the original column-style keyboard stand that securely holds two keyboards out of the box (up to 125lb. each). The patented Tri-bar arms are height adjustable, the support legs are super stable, and it's incredibly easy to setup, tear down, and transport from gig to gig.

Professional Tri-bar Arms
Keyboards, synthesizers, and keyboard workstations have evolved in the last two or three decades since the original APEX was developed. The APEX AX-48 Pro now ships with two sizes of Tribar arms (one set of 13" arms, and one set of 18" arms) to safely hold today's keyboards, synthesizers, and keyboard workstations of all sizes.

Includes a Mic Boom and Professional Tote
The AX-48 Pro Plus bundle includes the best microphone boom arm ever developed for live performance, the Ulti-Boom (Telescoping) and an adapter that fits right on top of the APEX keyboard stand! What's more, this bundle includes a professional tote that not only houses the keyboard stand, but also has a dedicated space for the Ulti-Boom. The AX-48 Pro Plus is the perfect bundle for the keyboard player who gigs often and also sings!
Specifications
AX-48 Pro Height: 46" (1168mm)
AX-48 Pro Weight: 19lb. (8.6kg)
AX-48 Pro Folded Length: 52" (1321mm)
Ulti-Boom Length: 18.9" - 34.6" (480 mm - 880 mm)
Ulti-Boom Weight (with adapter): 2.5 lb. (1.1kg)
Features
Simple setup and tear down
Sleek, new design
APEX-quality features
Professional tri-bar arms
Includes a Mic Boom and Professional ToteAX-48 Pro Load Capacity: Up to 125lb. per tier (56.8kg) or 250lb. total (113.6kg)
WARNING: This product can expose you to chemicals including Wood dust, which is known to the State of California to cause cancer, and Di-isodecyl phthalate (DIDP), which is known to cause birth defects or other reproductive harm. For more information go to www.P65Warnings.ca.gov.