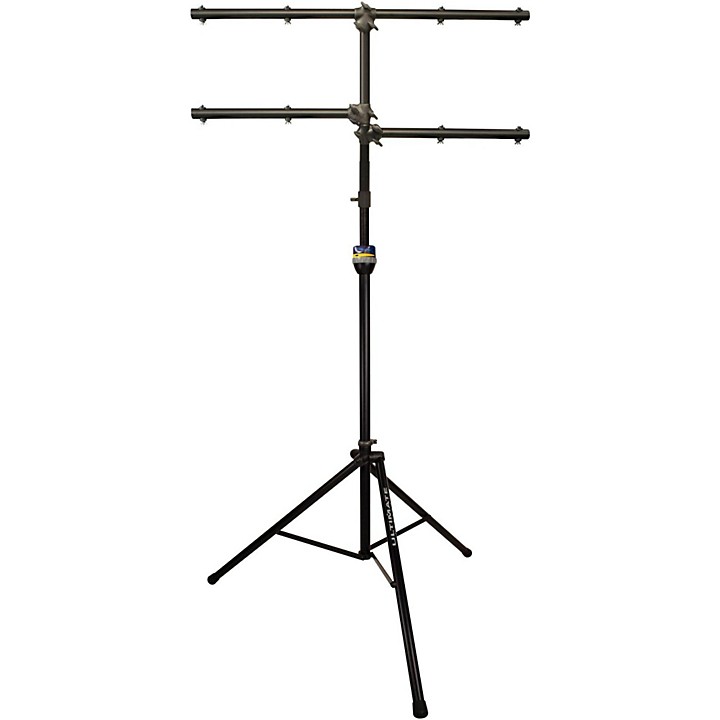 Versatile lighting tree with flexible height and setup options.
The LT-99B is a turnkey-style lighting tree that features oversized, heavy-wall aluminum tubing and extra height. The LT-99B is one of the easiest lighting tree stands to use thanks to its patented TeleLock collar.

TeleLock Lift-assist Stand
Set the TeleLock collar to either the "Raise" or "Lower" setting and the Auto-lock technology provides just the right amount of resistance to allow you to raise or lower the lighting tree while locking the tube in place as you go. Also, the fail-safe internal friction device won't allow your lighting gear to slide down once it's in the "Lock" position. It's like having tour support built into your lighting tree stand.

LTV-24B Vertical Extension
The LTV-24B is a 24" vertical extension tube that fits on top of the LT-99. While the TeleLock tripod stand is plenty tall on its own, by adding the LTV-24B to the stand, it gives you plenty of height for all of your lighting needs. With the addition of the LTB-48B T-style lighting crossbar and LTB-24B, you have a professional, sturdy lighting tree.

LTB-48B T-style Lighting Crossbar
The LTB-48B is a 48" T-style lighting crossbar featuring four pre-drilled holes for mounting your lighting equipment to, and includes mounting hardware to get you started. It's constructed with thick-walled aluminum so while it's amazingly light, it's rated for use with C-clamps (not included) as well. The LTB-48B also includes two UNF-150 mounting brackets for mounting lighting equipment, such as dimmer packs, to the lighting tree.

LTB-24B Lighting Sidebars
The LTB-24B is a great and flexible way to add more lights to your Ultimate Support lighting tree. It features two 24" sidebars that mount to the LTV-24B Vertical Extension. The two sidebars are height-adjustable, so you can mount them where you need them on the pole for maximum flexibility. Each LTB-28B sidebar features two pre-drilled holes for mounting your lighting equipment to (mounting hardware included).

Over-sized Heavy Wall Aluminum Tubing
The entire stand (legs, mast, and telescoping tube) uses oversized, heavy-walled aluminum tubing for durability, functionality, and weight savings. The LT-99B will not rust or corrode-thanks to its architectural anodized finish-is very smooth to operate, and is extraordinarily strong yet lightweight.



Specifications
Base Diameter: 62" (1575mm)
Height: 7'2" to 11'2" (2184mm to 3406mm)
Weight: 19.6lb. (8kg)
Features
Included components: TeleLock Lift-assist stand, TS-99B aluminum tripod stand, LTV-24B 24" Vertical Extension, LTB-48B 48" T-style Lighting Crossbar, LTB-24B 24" Lighting Sidebars (Qnty: 2)
Oversized heavy wall Aluminum tubing
Telescoping tube diameter: 1.5" (38mm)
Leveling leg length 40" - 53" (1016mm - 1346mm)
Adapter diameter: 1.375" (35mm)
Load Capacity: 150 lb. (68.2kg)
WARNING: This product can expose you to chemicals including Wood dust, which is known to the State of California to cause cancer, and Di-isodecyl phthalate (DIDP), which is known to cause birth defects or other reproductive harm. For more information go to www.P65Warnings.ca.gov.