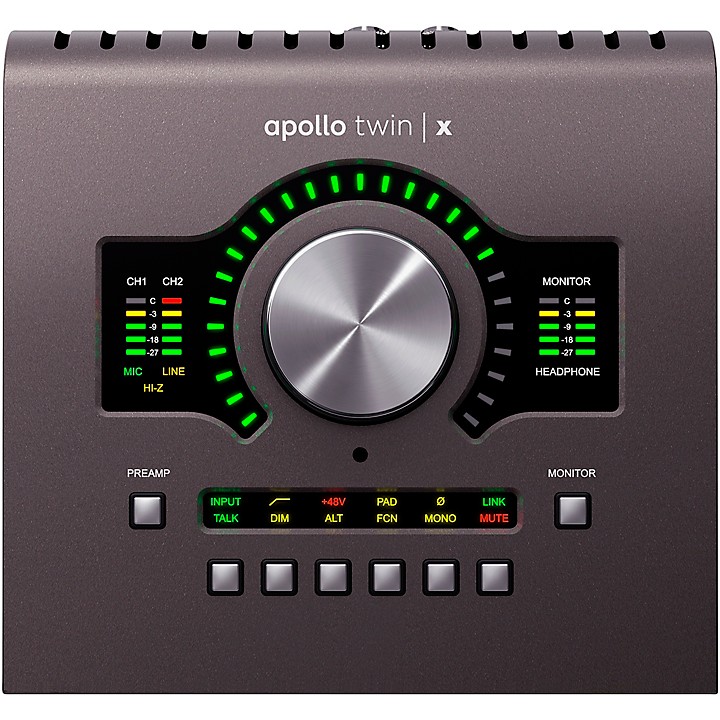 Powerful audio interface with QUAD Core Processing.
The Apollo Twin X QUAD Heritage Edition is a special edition of Universal Audio's Desktop 10 x 6 Thunderbolt 3 Audio Interface with Realtime UAD QUAD Core Processing and two Unison Mic Preamps for Mac and Windows. The Heritage Edition comes with all the benefits of Apollo Twin X including elite-class A/D and D/A conversion, QUAD Core realtime UAD plug-processing, Unison-enabled mic preamps and full LUNA Recording System integration. Plus, it comes with a software suite of 5 award-winning UAD plug-in titles featuring Collections from Teletronix, Pultec and UA. Realtime UAD Processing allows you to run the full library of UAD plug-ins at near-zero latency. These premium Heritage Edition titles are in addition to Apollo Twin X's included "Realtime Analog Classics" bundle, giving you the most accurate library of classic analog emulations of any pro audio interface.

The Heritage Edition of Apollo Twin X also features two Unison-enabled mic preamps, letting you track through exacting mic preamp emulations from Neve, API, Manley, SSL, Avalon, Helios and Universal Audio. A Universal Audio exclusive, Unison is a proprietary hardware-software integration that nails the tone of these popular tube and solid-state mic pres. Unison technology is also found on Apollo Twin X's front-panel Hi-Z instrument input, providing dead-on impedance and gain matching for guitar and bass amp models from Fender, Marshall, Ampeg and more.

Apollo Twin X works with all major DAWs, including LogicPro, Ableton Live, Pro Tools and more, but it becomes a fully integrated recording system with LUNA, a powerful recording application for Mac from Universal Audio. Bolstered by Accelerated Realtime Monitoring, LUNA lets you track and mix in an intuitive single-window workflow with unlimited track counts. With its two Unison-equipped preamps, two line outs and optical ADAT/SPDIF input—plus dedicated monitor remote controls and built-in Talkback mic—the 10 x 6 Apollo Twin X Heritage Edition gives you the I/O you need for professional tracks and mixes.

Users of Apollo Twin MkII can combine up to four Thunderbolt Apollos and six total UAD-2 devices—adding I/O and DSP as your studio grows. Once you expand your studio with additional Apollo rackmount units, you can use Apollo MkII as a desktop monitor control while still tapping its additional I/O and DSP power.

Get Legendary UA Sound Natively With UAD Spark
Apollo Heritage Editions include plug-ins featured in UAD Spark, UA's subscription plug-in collection that runs natively on Mac, with no UA hardware required. With UAD Spark, you can expand your plug-in processing power, balancing your DSP load between Apollo and your computer's onboard processing.

Specifications
Audio Quality
Max bit depth: 24-bit
Max sampling rate: 192kHz
Inputs
Analog inputs: 2
Digital inputs: 1
Mic preamps: 2
1/4" only jacks: 1
S/PDIF in: 1
ADAT/optical in: 1
Outputs
Analog outputs: 4
1/4" out: 2
Other Connectivity
Connections: Thunderbolt 3
Headphone output(s): 1
Onboard Features
Computer platform: Mac, Windows
Phantom power: Yes
Direct monitoring: Yes
Latency control: Yes
Monitor control: Yes
Headphone control: Yes
Other
Width: 6.31"
Height: 2.6"
Depth: 6.2"
Weight: 2.35 lbs.
System Requirements
Thunderbolt 3 cable (not included)
Internet connection to download software and authorize UAD plug-ins
6 gigabytes available storage
Quad Core i7 or better processor recommended
For additional compatibility information, visit UA's website
Mac
Available Thunderbolt 1, 2, or 3 port
Thunderbolt 1 and 2 connections require an Apple Thunderbolt 3 to Thunderbolt 2 Adapter (not included)
macOS 10.12 Sierra, 10.13 High Sierra, 10.14 Mojave, or 10.15 Catalina
OS Requirements - Mac: macOS 10.12 or later, Quad Core i7 Processor or higher
PC
Available Thunderbolt 3 port
Windows 10 (64-Bit Edition)
OS Requirements - PC: Windows 10 Anniversary update or later, Quad Core i7 Processor or higher
Features
A special edition of UA's acclaimed Apollo Twin X interface—with a premium suite of 5 award-winning plug-in titles from Teletronix, Pultec, and UA—a $1,300 value
Elite-class A/D and D/A conversion derived from the Apollo X rackmount interfaces
2 Unison mic preamps offer stunning models of classic tube and transformer-based mic preamps and guitar amps
UAD QUAD Core Processing for tracking through vintage compressors, EQs, tape machines, mic preamps and guitar amp plug-ins with near-zero latency
Produce with LUNA Recording System—a fully-integrated recording application made for Apollo (Mac only)
Runs UAD Powered Plug-Ins via VST, AU, and AAX 64 formats in all major DAWs
Compatible with Logic Pro, Pro Tools, Cubase, Ableton Live and more
Front-panel Unison-enabled Hi-Z instrument input and headphone out
Built-in Talkback mic for communication with studio talent and recording slate cues
Dedicated monitor functionality including monitor remote functions and Mono, Mute, DIM and ALT monitor controls
Up to 8 channels of additional digital input via optical ADAT/SPDIF input
Also includes "Realtime Analog Classics" UAD plug-in bundle featuring UA 610-BTube Preamp Legacy Pultec EQ, LA-2A and 1176 compressors, Marshall Plexi Classic, Ampeg SVT-VR Classic and more
Uncompromising analog design, superior components and premium build quality