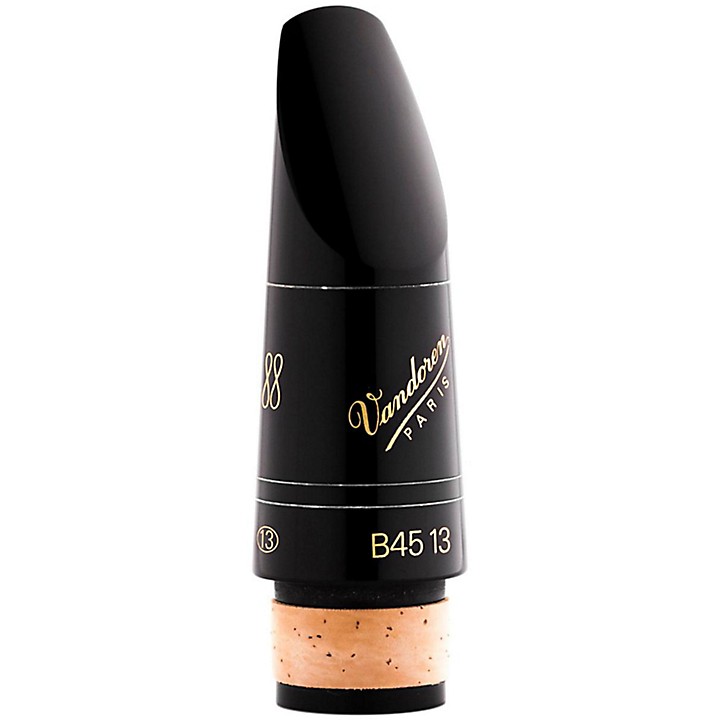 The Vandoren B45 Dot Bb clarinet mouthpiece features a large chamber for effortless playability and an unmistakably warm sound. Since 1905, Vandoren has handcrafted premium clarinet mouthpieces from the highest quality ebonite, and the B45 Dot is no exception. With its medium-long facing and 119.5mm tip opening, this mouthpiece produces a full, rounded tone that will satisfy clarinetists of all levels. The B45 Dot provides a familiar feel for those accustomed to the standard B45 model but with a slightly larger chamber and longer beak for increased airflow and playability. Whether you're a beginning band student, devoted educator, or professional clarinetist, the Vandoren B45 Dot mouthpiece will help your clarinet sing.
The hallmark of the B45 Dot mouthpiece is its large chamber, which provides excellent breath support for a free-blowing experience. Musicians can produce a resonant, singing tone with minimal effort. The chamber's enlarged size also contributes to the mouthpiece's full, rich sound with gorgeous overtones. For clarinetists fatigued from more restrictive mouthpieces, the B45 Dot offers sweet relief.
With a medium-long facing of 119.5mm, the B45 Dot mouthpiece capably handles a variety of musical styles. Its tip opening provides focused, articulate tones for classical and chamber repertoire as well as a round, blended sound for jazz, pop, and other contemporary genres. The medium-long facing also suits clarinetists with different embouchure forms, from very firm to very flexible. Whatever your playing style, the B45 Dot mouthpiece has you covered.
Like all Vandoren woodwind mouthpieces, the B45 Dot is fashioned from high-quality ebonite, a hard rubber material known for its resonance and durability. Ebonite mouthpieces produce a warm, rich tone with clear projection and are resistant to damage from temperature or humidity changes. Vandoren takes great care in the design and manufacturing of their mouthpieces, and the B45 Dot is a testament to their legacy of quality and craftsmanship.
Features
Facing: Medium long
Ligature: Not included
Material: Ebonite
Tip Opening: 119.5 mm