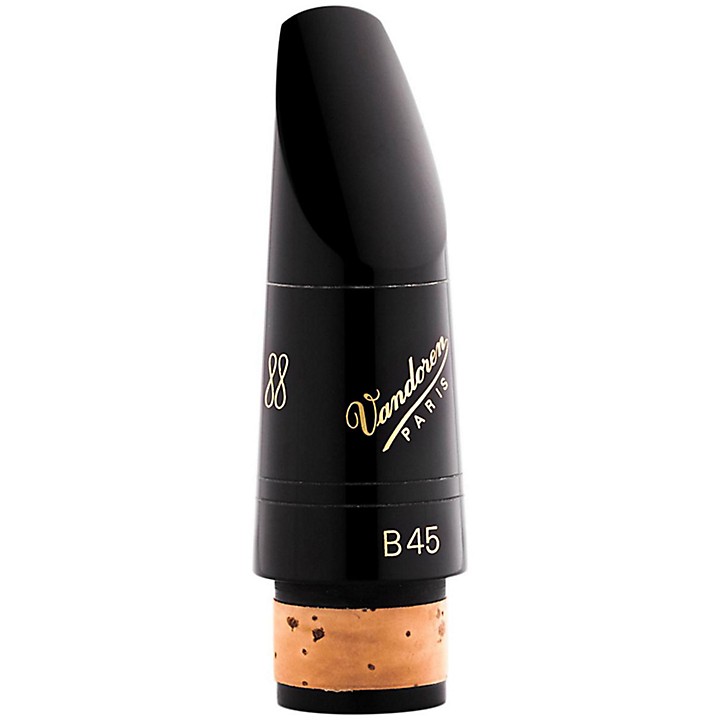 Vandoren, a leading woodwind mouthpiece maker since 1905, now offers the B45 Series Bb Clarinet Mouthpiece. Proud to introduce this model, which produces a clear, vibrant tone that accentuates the character of your clarinet. The B45 features a medium-long facing and large chamber for an open, resonant sound with excellent projection. Its rounded tip and wider reed channel also provide a free-blowing feel for fluid articulation and quick response.


Stage Pickup System Provides Unprecedented Control
The B45 Series Bb Clarinet Mouthpiece is designed for clarinetists seeking a bold, articulate tone with responsive playability. Its larger internal chamber and beak give the B45 a freer-blowing feel than the standard B45 model. This enhanced airflow translates to richer tone, improved projection and livelier articulation. The B45's wider reed channel also allows reeds to vibrate more fully, resulting in a broad, open sound with plenty of body and warmth.


Round Tip and Wider Channel Enable Expressive Playing
The B45 features a rounded tip opening of 1.195"es, which produces a full, resonant tone across all registers. Its wider reed channel provides more space for reeds to vibrate, enabling a free-blowing feel and fluid articulation. These characteristics make the B45 an excellent choice for clarinetists seeking a mouthpiece that facilitates expressive playing with a rich, vibrant tone.


Premium Ebonite Construction for Durability and Tonal Integrity
Like all Vandoren mouthpieces, the B45 Series Bb Clarinet Mouthpiece is crafted from high quality ebonite, a hard rubber that remains dimensionally stable in varying weather conditions. Ebonite also provides a warm, resonant tone that complements the sound of woodwind instruments. Its durable, non-porous material prevents buildup of moisture and grime, allowing for a hygienic playing experience and consistent tone quality.


Features
Facing: Medium long
Ligature: Not included
Material: Ebonite
Tip Opening: 119.5 mm