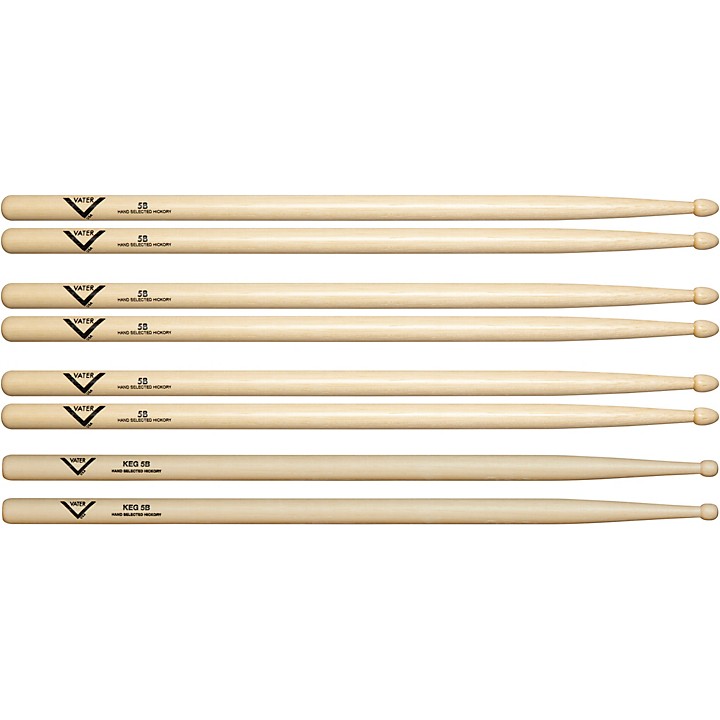 Restock on your Vater 5B sticks and get a free pair.
American Hickory dowels have to meet very strict quality characteristics to be made into a Vater drumstick. Vater only uses dowels that have a specific moisture content, straightness and grain structure, to produce a higher quality drumstick.

The Vater 5B Wood is a very responsive, comfortable and balanced stick with an acorn tip and a medium taper. Ideal for heavy fusion to hard rock, this versatile stick will give a heavy player the durability and articulation to cut through a mix.

Buy three pairs of the Vater 5B Wood and get a free pair of the Keg 5B. These sticks have the same dimensions as Vater's standard 5B, but with a "keg" barrel tip for a defined cymbal articulation.
Features
Quantity & Sizing (Pairs)
Quantity: 3
Type: Sticks
Drumstick Size: 5B
Diameter: 16"
Length: .605"
Construction & Features
Material: Hickory
Drumstick Tip: Wood
Tip Shape: Acorn
Taper: Medium
Finish: Lacquer
Other
Country of Origin: United States
Grip Material: No