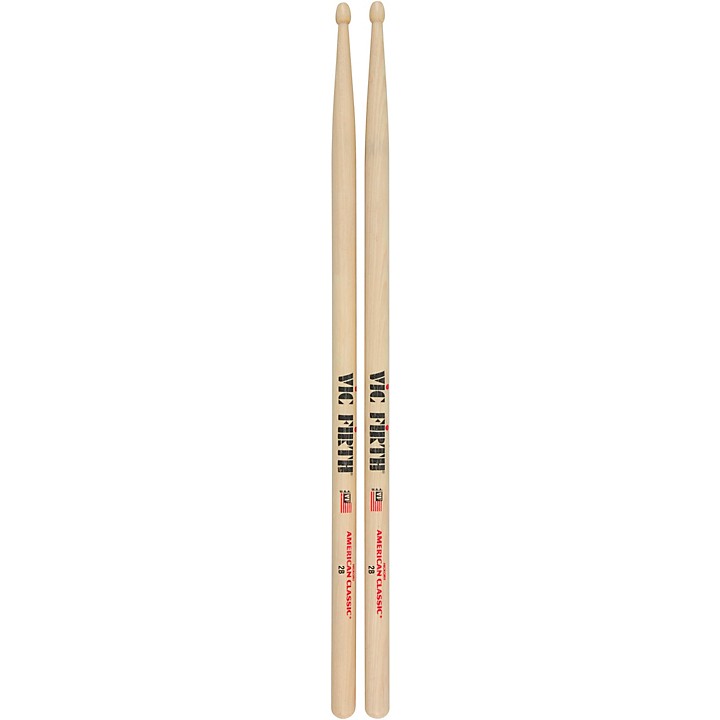 A reliable set of drum sticks for articulate and nuanced playing.
The Vic Firth American Classic Hickory Drum Sticks are designed for drummers seeking precision, comfort and tonal clarity. Constructed from premium hickory wood, these drum sticks absorb shock and reduce hand fatigue, even during intense practice sessions and performances. The hickory material is dense yet responsive, allowing for articulate playing across a variety of musical styles.


Premium Hickory Wood Offers Strength and Comfort
The American Classic Hickory Drum Sticks are built to last from high-quality wood that provides exceptional durability and comfort. The hickory material absorbs vibration to prevent hand fatigue, while remaining rigid enough for precise articulation. These drum sticks are crafted for professional-level playing, ready to withstand rehearsals, studio work and live shows.


Balanced Teardrop Tip Produces Focused Sound
The classic teardrop tip shape of these drum sticks produces a balanced, focused tone that works for multiple genres. The tip's design allows for articulate cymbal work, crisp drum rolls and nuanced playing. Whether you prefer rock, jazz, funk or other styles, these drum sticks deliver the control and tonal quality you need.


Built to Professional Standards of Excellence
As part of the American Classic series from Vic Firth, these hickory drum sticks are held to extremely high standards of quality and performance. They are a preferred choice of professional drummers around the world for their consistency, durability and ability to elevate drumming technique. With proper care and handling, these drum sticks will serve as trusted companions for years of playing.

Order the Vic Firth American Classic Hickory Drum Sticks today.