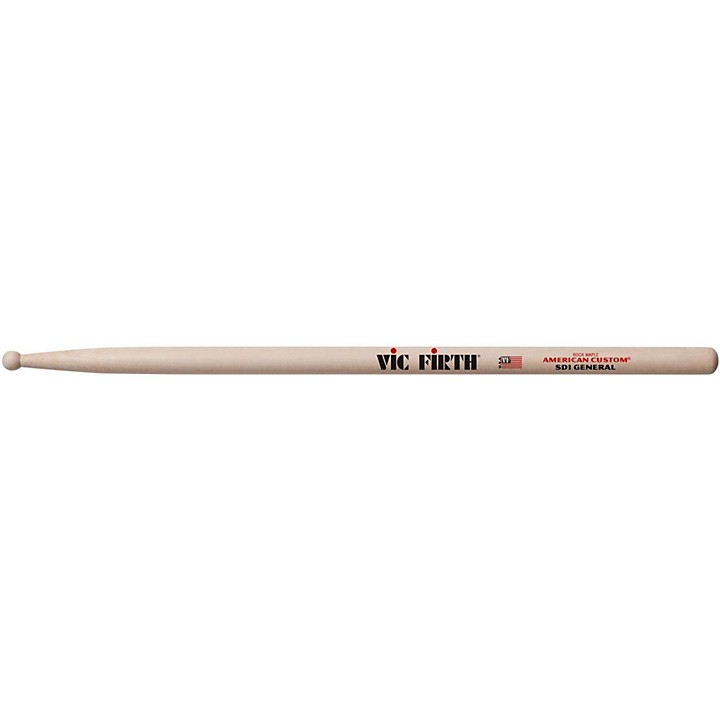 Conceived and engineered by Vic himself!
Vic Firth's American Custom SD1 General Drumsticks are the ideal all-purpose sticks for drummers of any skill level. These legendary 16 3/8" sticks feature a round tip and medium taper for articulate rolls, rimshots, and cymbal work. The SD1s are made of select rock maple for a lightweight feel with optimal rebound.


Ideal for Any Genre
Whether you're playing orchestral, rock, jazz, or metal, the SD1 General sticks can handle it all. Their medium diameter of .635" provides enough power for loud playing styles without being too beefy. The round tip also helps produce clear articulation on drums and cymbals. These characteristics make the SD1s excellent for drummers who switch between musical genres .


Perfect Practice Pair
The SD1 General sticks have become renowned as an ideal practice stick. Their medium weight and versatile design help build foundational skills that translate across all areas of drumming. The rebound and feel of the SD1s closely mimic that of Vic Firth's entire American Custom line, allowing drummers to focus on technique rather than adjusting to different sticks. Whether doing rudiments, working on timing, or building speed and endurance, the SD1 General sticks are perfectly balanced for productive practice.


Premium Maple Construction
Like all of Vic Firth's American Custom sticks, the SD1 General model is crafted from premium rock maple selected for its density, grain orientation, and ability to produce rich tone. This high quality wood is kiln dried to exacting standards before being turned on a lathe. The stick is then sanded and sealed to create an ultra-smooth finish. The result is a lightweight yet durable stick that feels like an extension of your hands.


A Legendary Pair of Sticks
For over 50 years, Vic Firth has been crafting high performance drumsticks used by world-class drummers in every musical genre. The American Custom SD1 General sticks demonstrate why Vic Firth has become such an iconic brand. With their versatile design, premium construction, and perfect balance of power and articulation, the SD1 General sticks live up to their legendary status and deliver everything drummers need in an all-purpose stick.