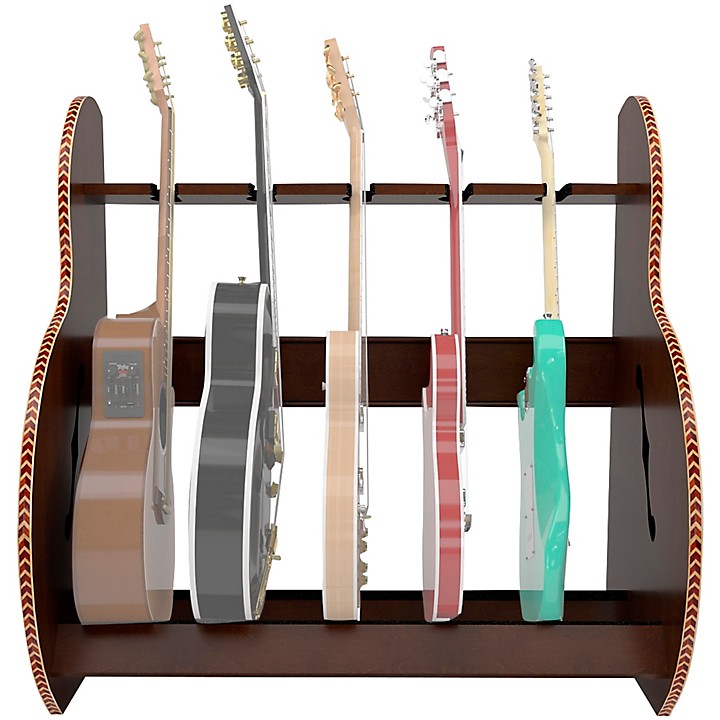 Handcrafted and American-made.
Too many instruments and nowhere to put them all? Save space in luxury and style with the Deluxe version of Session Multiple Guitar Stands. These stunning racks will hold 5 or 7 of your finest instruments. Felt-lined accessory trays can hold your picks, tuners, capos and other accessories.

Conserve your floor space and get a beautiful piece of furniture too. And if you're searching for a great gift, you'll be sure to knock it out of the park with the Session Deluxe.

Holds Acoustics, Electrics & More
The Session Deluxe is designed to hold most styles of electrics or acoustics, solid or hollowbodies, and basses or banjos too.

Customize Your Stand
The Session Deluxe is available both 5- and 7-instrument capacities. All Deluxe models feature a stunning herringbone inlay edging along the front-facing edges of the side panels.

American-made Craftsmanship
The Session Deluxe is handcrafted and made in the USA, designed and built to last by a passionate team of people who deeply care about your satisfaction.

Nitrocellulose Safe
The Session Deluxe is a nitrocellulose-safe guitar stand. All instrument contact points are covered with non-reactive felt. Why? Because some vintage guitars can have a nitrocellulose finish which can react with rubber or petroleum-based products. Many guitars stands on the market use materials that are not compatible with this type of finish, and can cause deterioration and discoloration that can harm your guitar. So, be very cautious when purchasing stands to make sure you know the materials they use are safe.

Easy Assembly
The only tool you need to assemble your stand is a Phillips head screwdriver.

Specifications
Dimensions
5 Guitar Stand (WxHxD): 41-1/2" x 38-1/2" x 24"
7 Guitar Stand (WxHxD): 49-1/2" x 38-1/2" x 24"
Features
Available in 5- and 7-guitar capacities
Nitrocellulose-safe wool felt at all guitar contact points
Available in three wood finishes
Herringbone inlay edging
Hardwood rails
Attractive "F"-hole shaped cutouts
Made in USA
Frequently Asked Questions
Q: What materials are used where the guitars touch the rack, and is it safe?
A: Wool felt is used at all guitar contact points to keep your guitar finishes safe, especially if you have valuable guitars with a nitrocellulose finish.
Q: Can this fit jumbo guitars (5" depth in body) comfortably next to each other?
A: Yes, it will fit 5" body guitars just fine.
Q: Will this fit even larger guitars like Dobros and Weissenborns?
A: No. Due to the neck sizes of these instruments, the Session Racks are not designed to accommodate these instruments.
Q: What are the DELUXE models made from?
A: The side pieces are made of real wood veneer over an MDF core, with herringbone inlay along the edges. The four support rails are solid hardwood.
Q: What are the STANDARD model side pieces made from?
A: The curved sides are made of simulated cherry woodgrain, scuff-resistant, high-pressure laminate over an MDF wood core. The three support rails are solid hardwood.
Q: Can I order one with wheels?
A: Sorry no, Session Deluxe models are NOT designed to be mobilized.
Q: How high will my guitars sit from the floor? I keep my guitars in my basement and always worry about flooding.
A: Guitars and cases, when on the racks, sit approximately 3" above the floor. Of course, if flooding is a threat where you live, it is strongly encouraged you avoid keeping your guitars in a basement.
Q: Can the rack be placed directly against the wall?
A: Because the guitars/cases need to lean, you will need a few inches of clearance. Anywhere from about 2" to 7″ depending on the rack and guitar or case size.