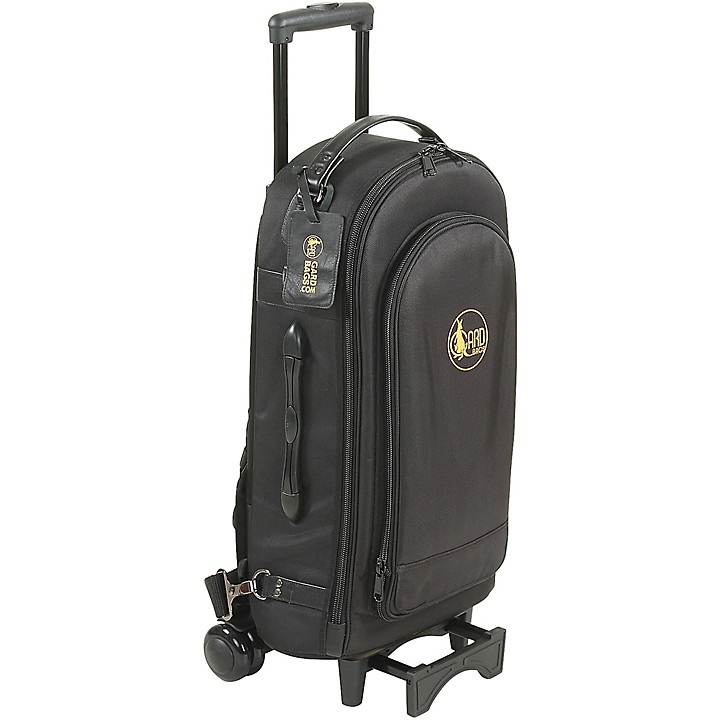 Protection and convenience.
GARD Patented Mid-Bag Suspension System, with foam belts/pads, and cone inserts for your instruments. The trple trumpet bag will hold any three trumpets up to and including two B-flat trumpets. The padding is made of dense, thick, impact-resistant High-Density foam. The bag interior has 25mm of foam on all sides of the instrument and the bell area is protected by a wooden disc padded with dense foam. A 1 Zipper guard protects the instrument from accidental scratching from metal zippers.

1680 Denier Ballistic Synthetic Fabric is standard in all Gard Synthetic bags. The fabric is abrasion and tear resistant, and the bag features sturdy YKK zippers. Heavy-duty electroplated brass hardware adorns the exterior and all weight-bearing joints are riveted as well as stitched.

Wheelies have a front kick-stand that prevents the bag from toppling over due to weight of the instrument and also feature a telescopic handle to allow easy adjustment to the height of the player.The carry/grip handle is made of real leather that is soft to touch and adjusts comfortably to your hand. A 2 shoulder strap is included with bag. Leather Luggage tag provided as well. Bag can be carried as a backpack.