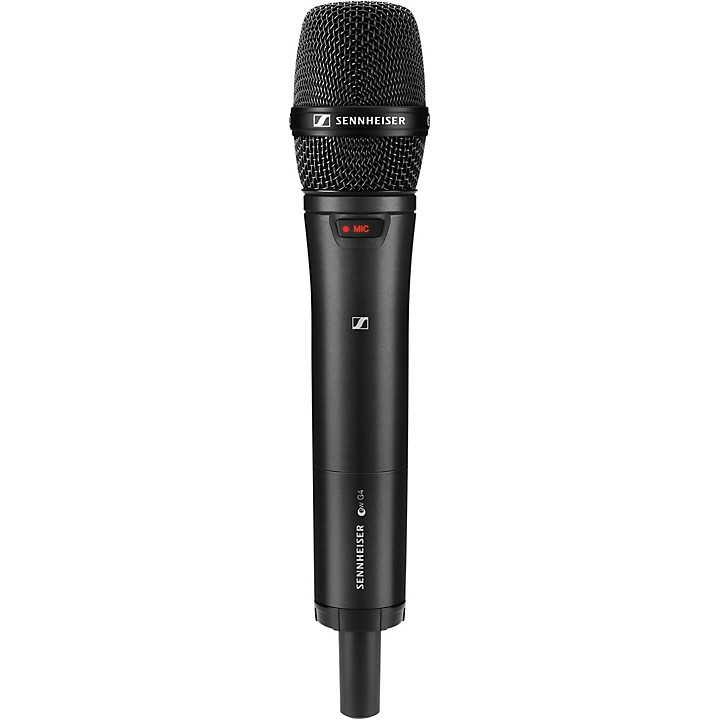 Powerful handheld transmitter with a lightweight aluminum housing.
Powerful handheld transmitter with a lightweight aluminum housing, increased bandwidth and transmission power, and integrated mute switch for evolution wireless G4 300 Series systems, delivering exceptional speech intelligibility in Business and Education.
Specifications
RF characteristicsModulationFrequency Ranges
Aw+: 470–558mHz
AS: 520–558mHz
Gw1: 558–608mHz
Gw: 558–626mHz
GBw: 606–678mHz
Bw: 526–698mHz
Cw: 718–790mHz
Dw: 790–865mHz
JB: 806–810mHz
K+: 925–937.5mHz
Transmission frequencies
Max. 3520 frequencies, adjustable in 25 kHz steps
20 frequency banks, each with up to 32 factory-pre- set channels, no intermodulation
6 frequency banks with up to 32 programmable channels
Switching bandwidth
up to 88 MHz
Nominal/peak deviationFrequency stabilityRF output power at 50 ohm
Switchable:
Low: typ. 10 mW
Standard: typ. 30 mW
High: typ. 50 mW
Pilot tone squelchAF characteristicsCompander systemAF frequency responseSignal-to-noise ratio (1 mV, peak deviation)Total harmonic distortion (THD)Setting range for input sensitivity
48dB, adjustable in 6dB steps
Overall deviceTemperature rangePower supply
2 AA batteries, 1.5V or BA 2015 accupack
Nominal voltage
3V battery/2.4V rechargeable battery
Current consumption
at nominal voltage:
typ. 180 mA
with transmitter switched off: ≤ 25 μA
Operating timeDimensionsWeight (incl. batteries)
Features
Powerful handheld transmitter with a lightweight aluminum housing for use with the renowned e 865 capsule (recommended)
Easy to use, fast setup time
Integrated network port allows control, monitoring and setup via Sennheiser Control Cockpit and WSM Software
Broad range of products and existing accessories (such as microphones) allows usage in any kind of environment
Up to 88 MHz bandwidth, up to 32 channels
Increased RF output power (10/30/50 mW)
Transmission Range: up to 100 meters / 330 feet
Compatible with wireless speaker system LSP 500 PRO
RC (remote control) switch available for the bodypack transmitter
WARNING: Cancer and Reproductive Harm www.P65Warnings.ca.gov.