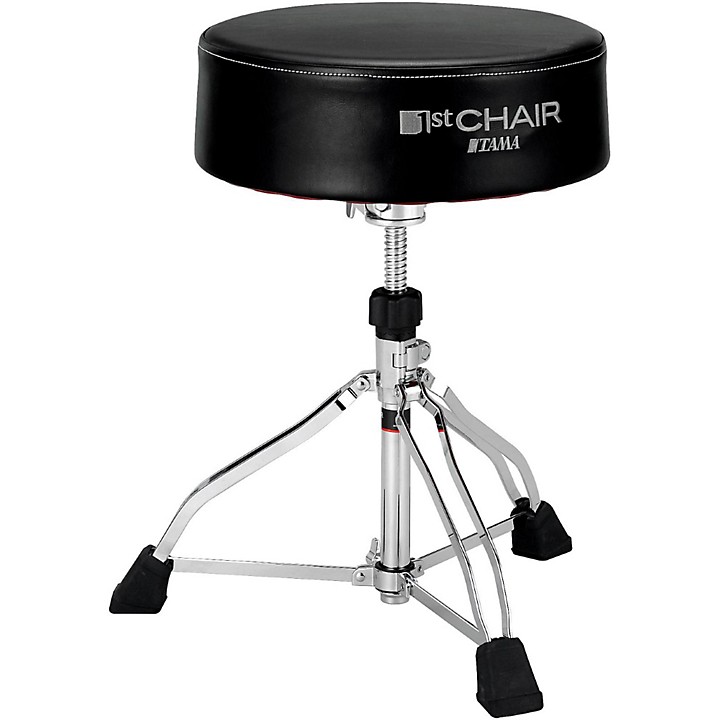 The best performance starts at the core.
Tama's 1st Chair drum thrones were designed with core comfort in mind. Several new features have been developed in order to increase stabilization of the throne, and thereby the core, for maximum comfort and enhanced performance. From extra large rubber feet and significantly more stable legs to the upgraded "Seat Lock" seat holder and the extra smooth "Glide Tite Grip Joint", the 1st chair thrones were reimagined from the ground up.

Also, by lowering the distance of the center throne pipe to the floor, Tama lowered the center of gravity for better stability and overall playing comfort. With these significant improvements, drummers can think less about physical stress or fatigue, and more about the music.

The extra large Round Rider XL seat provides the same classic shape with a wider surface area and a thicker seat.

A Glide-Tite Grip Joint allows for a more secure attachment by using a metal-to-metal contact point. It is an extremely solid base attachment, even for the heaviest hitters.

Seat Lock is a great design that utilizes two-piece locking hinge collar system for superior throne base to seat connection and oversized wing nut for easy and secure tightening. Tama removed the "wobble" which can typically affect the seat to throne base connection.

By lowering the distance of the center throne pipe to the floor, a lower center of gravity was achieved. Additional stability improved by lengthening the tripod leg stabilizer bar and designing double-braced tripod legs that do not taper at the point they insert into the rubber feet.

The Round Rider XL Seat supports diverse playing styles and provide the maximum in playing comfort, Tama developed the extra large and super-padded Round Rider seat top.