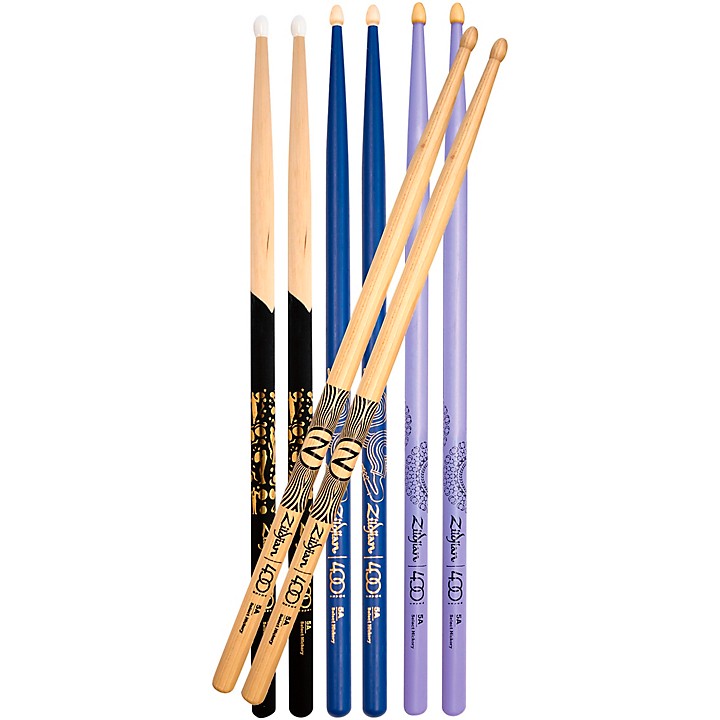 Celebrate Zildjian's 400th anniversary with four uniquely designed drum stick pairs in a 5A diameter.
In celebration of 400 years, the Zildjian Limited-Edition 400th Anniversary drum sticks pay tribute to four major milestones in the company's history. From the discovery of the proprietary Zildjian alloy to the triumph of classical repertoire; the birth of jazz to the legacy of rock—these key moments changed music and the world. Featuring four uniquely designed drum sticks in a 5A diameter, these collectible implements are an invitation for musicians and music fans to honor the last 400 years of Zildjian history and inspire what comes next.

This variety pack includes a pair of:

400th Anniversary Acorn Tip Jazz Drum Sticks

This limited-edition Zildjian 400th Anniversary acorn tip jazz drum stick features a design celebrating the birth of jazz music and the role of Zildjian cymbals in that era. During the 1930s to 1950s, Avedis Zildjian was quick to embrace the talented musicians who were leading the jazz movement. Having been discriminated against during his own childhood as an Armenian living in Turkey, Avedis vowed there would be no place for discrimination at the Zildjian Company. He worked closely with African-American artists like Chick Webb and Papa Jo Jones (who helped Avedis develop the hi-hat). During this period of innovation the "paper thin crash," "ride," "splash," "hi-hat" and "sizzle" cymbals were all developed and named by Avedis. To celebrate this rich time in Zildjian history, the jazz design on this limited-edition 400th Anniversary acorn tip jazz drum stick evokes the collaborative spirit and continuous movement of jazz music.

400th Anniversary Alchemy Acorn Tip Drum Sticks

This limited-edition Zildjian 400th Anniversary Alchemy acorn tip drum stick design celebrates the origin of the secret family alloy. In 1618, Avedis I, an Armenian alchemist living in Constantinople, discovered a secret process for treating alloys and applied it to the art of making cymbals of extraordinary clarity and sustain. This proprietary mix of copper, tin and silver is still used in Zildjian cymbals today. The alchemy symbols used in the design represent each of the metals in this secret alloy, arranged in the shape of a cymbal

400th Anniversary Nylon Dip Classical Drum Sticks

This limited-edition Zildjian 400th Anniversary nylon dip Classical drum sticks feature a design celebrating the entry of Zildjian cymbals into popular music. During the mid-to-late nineteenth century, composers such as Berlioz and Wagner began featuring an abundance of cymbals in their compositions and requested that only Zildjian cymbals be used. It was during this time that cymbals achieved an important and permanent position in orchestras. Inspired by a Turkish tapestry from the same era, the silhouetted illustrations of orchestral percussionists on these sticks celebrate this milestone.\

400th Anniversary '60s Rock Drum Stick

This limited-edition 400th Anniversary '60s Rock drum stick celebrates the prevalence of Zildjian cymbals in popular music. With the British invasion, Zildjian became the standard in popular music. When The Beatles appeared on The Ed Sullivan Show in 1964, demand for Zildjian cymbals exploded so much that the company ended the year with 90,000 cymbals on backorder. This design pays homage to '60s style, inspired by the concert posters of that era.

Features
Includes 4 pairs of limited-edition 400th Anniversary acorn drum sticks (all 5A):
Jazz Acorn
Alchemy Acorn
Nylon Dip
'60s Rock